News & Views
When it comes to visual display hardware and graphics, there is one solution that sets a whole new standard and never goes out of style - Snap Frames and SnapFrame Light Boxes. Today, we are going to explore Snap Frame solutions from Testrite Visual, how they have developed over the last seven decades, and the solutions we are bringing to market today to brands all around the world.
What are Snap Frames
Let us begin with the most basic question? What is a Snap Frame? Snap frames are front-loading media frames. Snap Frames are typically designed to be Wall Mounted with a hinged, spring-loaded frame profile. This design allows the end user to snap open the wall mountable snap frame from all four sides to easily insert the desired media without having to remove it from the wall. Art changes are fast and easy. Because the graphic is held on 4 sides, you can also use a thinner and less expensive graphic. Whether you choose to use paper, styrene, or another thin graphic media, there's no need for a thick rigid graphic with a SnapFrame, allowing for lower cost graphic changeouts.
Snap Frames are one of the most popular visual display solutions available today to display sales, specials and other marketing messages in retail stores; to display menus and messaging in restaurants; to communicate with guests in hospitality applications; to communicate with employees and customers in entrances and break areas; to share hours and options in elevators; and much more.
When it comes to SnapFrames, you want a frame that has a really strong graphic grip. When you walk into a store and see a frame ¼ open on all sides, it just doesn't look right. At Testrite, our customers have told us that our SnapFrames have the strongest grip in the industry! We also offer a wide range of SnapFrame profiles and style options.
We have the quick graphic change snap frame you are looking for!


What is a Snap Frame Lightbox?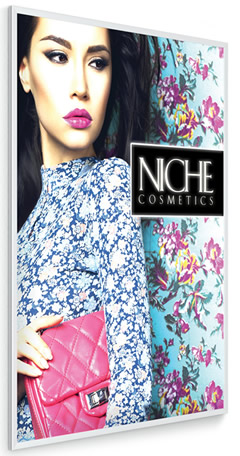 Snap Frames offer quality and convenience. What could make this solution even better? Lighting!
The Supraslim LED SnapFrame Lightbox delivers the beauty and convenience of a Snap Frame with the stunning companion of 6500k color temperature lighting. This lighting is ideal for bringing retail and brand graphics to life.
These ultra slim SnapFrame Lightboxes are ¾" thick and ¾" profile. These are Made in USA lightboxes and are available in standard sizes, and also as custom Snapframe Light boxes. Custom snapframe lightboxes are available in a minimum quantity of one for maximum convenience!
Anytime you add light to your visual display solution you immediately help grab attention and make your messaging stand out. Need printing to go with your SnapFrame lightbox? We can help with that too!

The Snap Frame Market
Testrite Visual is a family-owned and operated American Manufacturer. We have seven decades of experience manufacturing lightboxes in the United States.
Before we entered the SnapFrame Lightbox market we took a look at what was available to our customers.
Importing Snap Frames and Snap Frame Light Boxes
Dometic Snap Frames and Snap Frame Lightboxes
We brought in a range of samples, and frankly, we didn't like the quality or aesthetic of either option.
Imported lightboxes were finicky and subject to easy damage by touching them the wrong way. Imported lightboxes are also a challenge especially when you consider the long lead times, cost, and inconvenience for imported goods. Lightboxes at full size are large and need to be protected, so importing them takes up a lot of room. Domestic lightboxes made by others lacked the performance we would expect from a high-quality LIT lightbox or LED lightbox.
So, Testrite Visual set out to manufacture a "Made in the USA" solution snap frame lightbox that delivered quality, value, convenience, and a great aesthetic. We're proud to say we've won every "bake off" we've been in, where customers selected our product after extensive testing of multiple solutions.
Standard Solutions
When it comes to visual display solutions we know customers want options! This is why we have three standard solutions available for our SupraSlim Lightboxes.
18" X 24" SUPRA SLIM LED LIGHT BOX
22" X 28" SUPRA SLIM LED LIGHT BOX
24" X 36" SUPRA SLIM LED LIGHT BOX
Customers can select their desired size and choose from a horizontal or vertical orientation. We also offer the frame in Satin Silver or Matte Black. Since graphics integration is at the heart of everything we do, customers have the option to purchase a Backlit Graphic to pair with their LED snap frame or lightbox, with custom graphic printing available.
Construction & Design
We take great pride, and great care, in the design and construction of our snapframes and snapframe lightboxes. When you look at a Testrite SnapFrame or Snap Frame Lightbox you will notice a modern, clean design created by the precise miters, a super thin ¾" depth and an equally thin ¾" front leaves design with a ¾" profile.
Our units are made from lightweight aluminum alloy construction which makes it easy to work with and install. These units will accept Duratranse graphics up to 1/32" thick and a clear protective lens is included with every order along with the wall mounting hardware.
We offer both LIT snap frames and LIT lightboxes. These are illuminated poster snap frames that utilize LED bulbs and an acrylic Light Guide Panel (LGP) to disperse light evenly across a displayed sign or poster. Standard, we perimeter light our acrylic panel on the two longest sides, and include a built-in reflective back panel. This combination offers fantastic light dispersion while still providing low voltage and energy efficiency, 6500° K color temperature and utilizes a low 24V external power source.
Non-LIT Snapframes and Non-LIT lightboxes offer the ease of front-loading graphics with the beauty of a slim frame profile. Our LIT Snapframes are UL Certified and bear an individually numbered holographic UL sticker on each frame. While our lightboxes are ideal for wall mounting, they are not for use in high heat environments nor in direct sunlight.
Customers are eager to pair custom backlit snap frames with non-lit frames because LIT SnapFrames and LIT lightboxes can be used to really grab attention, especially in retail; while Non-LIT Snapframes and snapframe lightboxes can be used to inform and deliver custom messaging. It is a perfect combination! We offer our ¾" SupraSlim in both lit and non-lit options, so your frames will match!
Custom Solutions
Speaking of custom… Testrite is your go-to solution for US-made custom light boxes and custom snap frames. We have expanded our custom capabilities for lightboxes and snap frames due to increasing interest from the retail industry. SnapFrame Lightboxes are becoming more and more popular for retail store fixtures, but for regional and nationwide rollouts, every store is a little different, so they may require a different size or configuration.
Because of our advanced design and manufacturing capabilities, Testrite Visual is able to offer the following custom solutions:
Custom widths and heights SnapFrame lightboxes
Custom frame depth from the wall with custom bracketry
Custom design to suit custom graphics
Custom colors including PMS color matching and RAL color matching
Choice of style
Custom sizes with a standard color
Custom frame finish
Choice of custom brackets to attach to your fixtures
And more.
We are also able to offer custom SnapFrames and custom SnapFrame Lightboxes starting at quantity one for the most flexible custom solution available today. We are just as happy to make a custom solution as we are a standard size, and we encourage custom requests.
Ordering
It is so easy to order from Testrite Visual. Here are the three most popular ways to work with us:
Testrite Sales Team - Our team has over 100 years of combined experience in visual display solutions and visual merchandising and we have reps around the country.
Shop & Buy Online - Our website allows customers to easily browse, budget and buy hundreds of snapframes and lightboxes right online. Typically our lead time for individual piece custom orders is one week, while larger orders can take longer. We do offer standard size SnapFrames in our QuickShip program if you have a quick lead time.
Custom Requests - if you have a custom request fill out a short form and get connected to a product expert. We turn quotes around fast and can even help with design and prototypes.
When you order from Testrite, you can rest assured that your order, processing, and communication is all US based which helps to create the best customer service experience.
We have been able to safely ship thin film lightboxes and Duratranse lightboxes via UPS saving our customers thousands of dollars in shipping. Our in-house logistics team will ensure your order is packaged with care and we can help with single, regional, or nationwide rollouts for orders of all sizes.
Testrite Visual has developed a reputation for being value-driven and American-made over its 104-year history. The SupraSlim LED SnapFrame Light Boxes™ are one of the hundreds of US-made hardware and graphic solutions available to meet the growing needs of today's visual design professionals.

Testrite Visual is an elite manufacturer of visual display solutions for local and national retail store brands. Their team of design, visual merchandising experts, and engineers strive daily to look for new ways to make their retail visual display solutions even better. As a fourth-generation, 103-year-old family-owned and operated business and American manufacturer, we focus on providing hardware and solutions to integrate graphics into the retail environment. To learn more about Testrite contact us today.