News & Views
The Benefits of Pallet Stands and Pallet Signholders for Retail Stores
One segment of the retail market that has grown significantly in the last decade is big box stores like Wal-Mart, Target, Costco, and Sam's Club, which has created a new retail environment designed around a "bulk shopping" experience. Supermarkets have also embraced this format, including for produce and seasonal merchandise. With this new shopping experience comes new visual display requirements including the need to incorporate merchandising pallets into the visual merchandising plan. In this blog post, we will discuss the many ways to incorporate pallets into the visual merchandising plan, the benefits of using pallet stands and accessories in retail stores and the types of pallet stands, pallet signholders and pallet accessories that are available.

The Growth of Big Box Stores
Bulk retail consumer shopping has been consistently on the rise over the last twenty years - 26.6% to be exact, according to Food Institute, even during a pandemic. And retail stores like Home Depot, Sams Club, Wal-Mart and Costco have created a visual merchandising experience that accommodates the bulk shopper.
One of the tools that these big box retailers use is retail pallet sign stands, a simple way for stores to display bulk items while reducing handling time for associates. Unfortunately, studies show that About 60% of promotional displays, like retail pallet stands, aren't executed properly, but when they are, the right retail displays can bring a 193% sales lift.
"As the demand for bulk shopping continues to increase and retailers look for ways to optimize the in-store shopping experience, the need for smart, functional, and versatile visual display solutions is vital," says Testrite Visual President, Jeffrey Rubin, "We believe our pallet stands, signholders and accessories are going to provide retail visual merchandising designers with a versatile, simple and effective tool that seamlessly integrates with how retailers sell today."

Visual Merchandising With Pallets
In today's busy retail environment, businesses are looking for ways to streamline the process of getting products off a delivery truck, onto the sales floor, and into the hands of paying customers. Many products arrive in bulk on pallets. In recent years, it has become increasingly popular to utilize the existing pallets on the sales floor to reduce the processing time, especially in retail settings and "big box stores".
Stores have also invested in ballet shaped merchandising displays, whether for produce, drinks, or showcasing larger merchandise (e.g. coolers and grills).
While wood pallets are not very aesthetically pleasing, with the right visual display products, retailers can make their pallet displays pop with graphics, hardware, and accessories that engage the customers, maintain a clean and safe shopping environment, and help drive more sales.
One of the best ways to make your pallets appropriate for the retail environment is with affordable pallet stands, pallet signholders, and pallet accessories that will streamline the handling of new palleted merchandise in stores. Now businesses can create a professional visual display with the existing pallet storage units that the product will arrive in when it is delivered to the final destination.

Visual Display Products for Pallets
When using pallets in your visual display plan it helps to use the right products and accessories.
Fixed Pallet Display Solutions
Fixed pallet stands and fixed pallet sign holders are perfect for static installations where a stationary height will suffice. This type of economical pallet stand offers a quick and easy way to display products to make sure they are seen by customers.
Because pallet stands are lightweight, it is important to have a heavy shovel base that will easily slide under the pallets. Fixed pallet stands are economical and easy to set up and take down when not in use.
Adjustable Pallet Stands
Adjustable pallet stands and adjustable pallet signholders use square telescopic tubing so the visual display unit can be easily adjusted to different heights. Telescopic pallet signholders are ideal for retailers as they allow for maximum flexibility in terms of height and positioning.
Telescopic pallet signholders are also great for creating visual merchandising displays in tight spaces where other display solutions may not fit. With their adjustable height and width, these signholders provide a cost-effective way to increase sales, enhance customer experience, and provide better visual merchandising solutions for retailers.
The adjustable features make it easier to adapt the steel pallet stands and accessories to the specific needs of each individual store, allowing for unique product placements that can draw attention to any item. Furthermore, the use of telescopic tubing adds another layer of convenience since it allows you to adjust the height quickly and easily.
Adjustable pallet signholders
with graphics allow the retailer to create dynamic and eye-catching visual displays which can entice potential customers into the store. In conclusion, the use of pallet stands and pallet signholders is an excellent way for stores to add value and convenience to their retail displays.
Pallet Stand Accessories
Do you want to sell reusable bags from your pallet signholder? Or to add brochures, sales flyers, credit card application offers, or other sales tools next to your pallets?
Pallet stand accessories
help you maximize your visual display hardware!
One of our new, unique Pallet stand accessories is an attachment to add an arm to hold reusable shopping bags. These can be added to Testrite's Pallet Signholders, or customized to fit existing pallet signholders made by other manufacturers.
Accessories might also include literature display solutions so you can include pamphlets, trifolds, brochures or rack cards with your pallet. Now your pallet stand becomes an information center to assist with lead generation and as an valuable sales tool. With Testrite Visual we offer both a catalog holder, and 4" x 1 ½" acrylic snap on pamphlet holder.
If you need to integrate any other accessories just ask, custom is our speciality
!
At Testrite Visual, we can combine accessories to truly customize your pallet stand for any application!
Benefits of Pallet Stands and Sign Holders
Pallet signholders are an invaluable tool for big box stores, grocery stores, and retail stores alike.
Increased Sales
Using retail pallet stands and accessories as a visual merchandising tool is proven to increase sales in retail stores. With telescopic pallet signholders, retailers can maximize the visibility of their products to ensure that all items are clearly visible to the customer. These pallet signholders, able to go up to 79" High, can be positioned above large and bulky merchandise to ensure visibility. The telescopic tubing of these adjustable pallet stands also helps to maximize floor space and improve customer communication by making it easier to locate products so customers to find what they are looking for. By utilizing pallet stands and accessories, retailers can create a visual display that entices customers to purchase, leading to increased sales.
Improve Visual Merchandising
Telescopic tubing allows the retailer to adjust the height of the pallet stand and customize the size of their retail display, Additionally, adjustable pallet stands offer retailers the flexibility to move and reposition their displays as needed, giving them a competitive edge over other stores.
Telescopic pallet signholders allow for visual merchandising and retail display without the need for bulky tertiary hardware or extra shelving. Pallet stands also increase safety by reducing the need for product handling, allowing locations to work with existing pallets and get product onto the floor faster. This streamlined approach helps to create a more efficient and organized retail experience.
Enhance In-Store Customer Experience
Online and ecommerce shopping accounted for about 14% of sales in 2022
so creating a in-store customer experience remains important to retailers. Our
metal pallet signholders
and
pallet stand accessories
are perfect for displaying product information, promotional materials, sales flyers and more to customers as they visit a retail store. Easily integrate graphics using our J hooks or Framettes ™ and swap out graphics as needed for sales, specials or product changes.
Use single arm pallet stands or double arm pallet stands and supply reusable shopping bags to shoppers as they shop. This is a convenience to shoppers and could contribute to new revenue streams. Pallet stands work with vertical or horizontal installation and are available in various sizes and heights, allowing you to customize your display according to the space and layout of your store. With pallet stands visual merchandisers can create a clean aesthetic that will appeal to in store shoppers and deliver valuable information that support their shopping experience.
Ease of Use for Associates
Our products are designed with convenience in mind. Associates can easily set up these pallet stands in just a few minutes, with just a few simple tools. Order your pallet stand with our 11 x 14" Framette™ accessory so as products change from day to day, or week to week, it is so easy to swap out graphics. When not in use, units disassemble very quickly and easy with compact storage.
Durability
The most durable pallet stands are going to be made from 100% metal construction with a heavy steel base that easily slides under the pallet. Plastic pallet stands and plastic pallet signholders may be more affordable early on but they can discolor, and break easily, Testrite's pallet stand solutions are made from 100% all metal construction with a heavy 4x14" square space or shovel base - depending on the model - that easily attaches to the hardware. These units are durable, yet still lightweight and easy to set up and take apart.



Pallet Stand Solutions from Testrite Visual
At Testrite Visual we have ten unique pallet stand products to meet all your visual merchandising needs:
1. Stellar
Pallet Signholders
Single sided pallet signholders work when you need to display graphics on just one side of the pallet and are made with our Stellar Pallet Stands, you can specify when ordering what style you would like.
2. Stellar
Double Sided Pallet Stands
Our double sided pallet sign holders work when you want to display graphics or hardware on both sides of a pallet and/or on top of the pallet. This unit is 78" high and 41" wide between the locks. It has open J Hooks 18" on center to easily hang graphics. It uses ½" and ⅝" square tubing. Both sides have a strong, square steel base that slides under the pallet.
U-Channel pallet stands have a .225" ID U Channel that is 8" long and uses two set screws to hold rigid graphics in place. This makes it so easy to swap out graphics and use the hardware again and again. Considering adding an acrylic pamphlet holder to this unit to hold rack cards, pamphlets, brochures or other sales materials.
3.
Incline Pallet Stands
Incline pallet stands have an 8 ½" x 11" vertical back that allows for the easy slide-in installation of graphics into a steel black holder, satin silver holder or clea acrylic holder. An optional acrylic snap on pamphlet holder is also available.
4.
Info Station Pallet Stands
Info Station Pallet stands are great retail showrooms and have even been used in hotel lobbies and restaurants. They feature an 11 ½" high by 20" wide tray where catalogs, brochures or other sales material can be placed. It is also available with an angled 3-ring binder with pencil edge. Easily add an acrylic snap-on pamphlet unit to further customized your hardware.
5.
Wire Pallet Signholders
Our wire pallet signholders are made from all metal construction in a black powder-coated finish. These units have a 3/8" steel rod that pairs with 18" on center J hooks to hold graphics in place. The units are durable and sturdy thanks to the 4" x 14" shovel-weighted base. These wire pallet sign holders have a fixed height of 60" high.
6.
Telescopic Pallet Sign Holders
Our telescopic pallet sign holders have an 8-1/2" x 11" aluminum that will hold media up to 3/16" thick. It has a simple satin silver finish and can be used for horizontal or vertical orientation
Telescopic tubing allies for adjustability up to 50" high and the 4" x 14" shovel base keep it in place.
7.
Single Arm Pallet Stands
Single arm pallet stands allow you to display one graphic or one type of accessory like reusable shopping bags on one side of the pallet stand or pallet sign holder.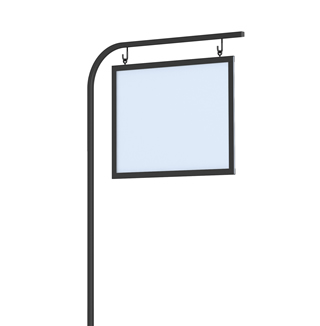 8.
Double Arm Pallet Stands
Double arm pallet stands display two graphics in one unit! Made from sturdy all metal construction, with a 4" x 14" square heavy steel base. The unit is made from high quality tetlescopic tubing that adjusts to 78: high. The top arms feature J hooks 8" on center and come with Framettes ™ for easy graphics integration. Framettes are available single sided or double sided and work with paper, styrene or other similar graphics.
Ask about customizations for this unit such as accessory arms or literature holders.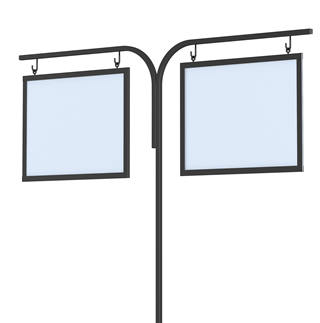 Custom Pallet Stand Solutions
Testrite Visual has many standard styles of affordable pallet stands and we realize that sometimes brands need something a little more custom. Luckily, custom solutions are our specialty!
As a US manufacturer, we can help businesses design a custom pallet stand or pallet signholder quickly. We provide quick quotes, affordable pricing, low minimums, and the fastest lead times. We can produce custom pallet stands in weeks, not months, and since it is all made in the USA, shipping timelines are faster and we specialize in nationwide rollouts.
Whether you need a custom height pallet stand, need to adjust the hardware for your graphics, want to customize the accessories, or need a custom color pallet stand, we can help!
Submit a custom request form today.
Easy Online Ordering
With Testrite Visual we have made it so easy to browse, shop, configure, and price out your pallet stands and pallet sign holders right online.
→ For
pallet stands
, select whether you want single or double-sided, square or shovel base, single or double arm, with Framette ™ or J Hooks for easy graphics integrations. This unit is also available with an optional bag holder arm.
→ For
pallet sign holders
select the height of the unit you need, with four standard sizes available. Each pallet signholder comes with a shovel base standard.
If you want to customize this unit fill out a custom request form, we will reply within one business day.
These affordable pallet stands start at $70-80 each, depending on the style and configuration. We offer volume discounts and can assist with local or nationwide rollsouts will full sales, service, and logistical support. We also offer drop shipping capabilities to printers and print partners.

About
Testrite Visual
is an elite US manufacturer of visual display solutions and recognizes the importance of integrating graphics into Visual Merchandising, Communication and Presentation environments with graphics that grab attention and convey messages in a tasteful and effective manner. Testrite has earned an extraordinary reputation for quality and reliability, durability, clean design, and providing value as a US manufacturer. Customers leverage 100-plus years of experience, know-how, and existing tooling and Testrite routinely provides customizable solutions quickly and cost-efficiently. With a team of design, visual merchandising experts, and engineers, customers have the expertise they need from project inception to production and roll out with full logistic support. To learn more about Testrite
contact
us today.
Testrite Visual Unveils
New Telescopic Pallet SignHolders
Hackensack, NJ, USA - Testrite Visual, caters to, and specializes in, meeting the needs of today's dynamic retail industry and is excited to introduce a new and improved design for retail pallet stands now featuring telescopic square tubing - Stellar Pallet Stands ™ .
Retail pallet stands are becoming increasingly popular, especially in supermarkets, big box retail, and bulk shopping centers. The new Stellar Pallet Stands feature a unique design featuring telescopic square tubing infinitely adjustable up to 78" high, providing for even more installation flexibility.
This Made-in-the-USA retail pallet stand features:
All metal construction with sturdy steel base

Single-sided or double-sided pallet stand options

Double upright Pallet Stand ideal for end caps

Available custom with uprights in the middle, offset or corner

Optional removable pallet stand bag holder
Designers and buyers can easily integrate their own graphics and visual display hardware using the available J-Hooks or purchase optional 11" x 14" Framettes, also available from Testrite Visual, which work with rigid paper or styrene graphics and provide for easy graphic swap outs.
"Testrite Visual is a premier partner for the retail industry and we remain committed to understanding their needs and providing enhanced visual display solutions to our retail partners", says Jeffrey Rubin, President of Testrite Visual, "This new adjustable retail pallet stand is going to make it easier for stores to optimize their pallet displays stands and maintain a clean visual merchandising design."
As a US manufacturing company, Testrite is uniquely suited to meet the needs of today's retailers with full rollout support including sales, design, and logistics as well as fast lead times. Testrite can produce thousands of retail pallet stands in weeks, not months so units can hit stores and meet your rollout timelines. These units are ideal for bulk packing to help reduce the cost of rollouts.
Interested parties can visit www.testrite.com to talk with a product specialist today.
ABOUT
Testrite Visual is an elite US manufacturer of visual display solutions and recognizes the importance of integrating graphics into Visual Merchandising, Communication and Presentation environments with graphics that grab attention and convey messages in a tasteful and effective manner. Testrite has earned an extraordinary reputation for quality and reliability, durability, clean design, and providing value as a US manufacturer. Customers leverage 100-plus years of experience, know-how, and existing tooling and Testrite routinely provides customizable solutions quickly and cost-efficiently. With a team of design, visual merchandising experts, and engineers, customers have the expertise they need from project inception to production and roll out with full logistic support. To learn more about Testrite contact us today.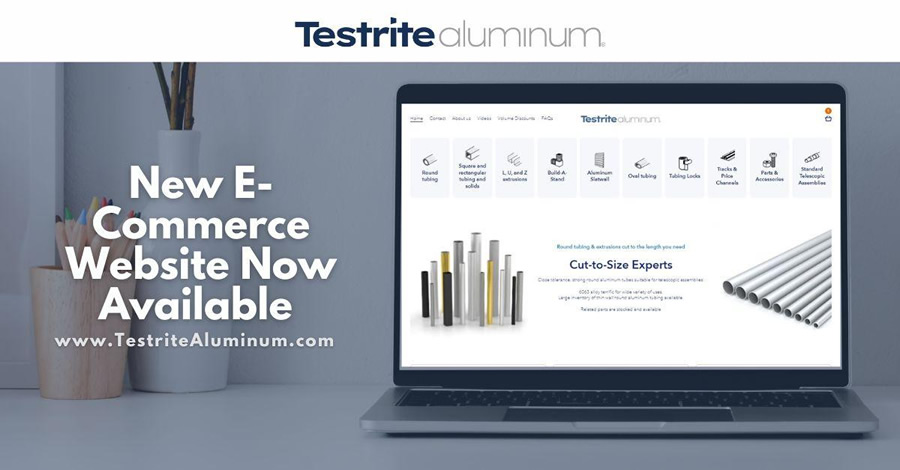 Hackensack, NJ, USA - Testrite Holdings, a 104-year-old company, is thrilled to announce the launch of testritealuminum.com. Testrite is the leading US Manufacturer of telescopic aluminum tubing as well as visual display solutions. This new website will allow fabricators, installers, engineers, and more to buy the same high-quality aluminum materials that Testrite uses in the manufacture of its own products.
Products available at TestriteAluminum.com include:
Aluminum tubing capable of telescoping
Telescopic tubing locks
Thin wall aluminum shapes
Price channels
Aluminum slatwall
Aluminum ovals
Graphic tracks
Ends Caps
Accessories
And more ...
Fabricators and manufacturers alike can benefit from the wide selection of materials available for purchase online at wholesale pricing with 24/7/365 access. Now customers have the freedom to make their own unique creations from this wide selection of stocked parts. They can also create small batches of new designs faster and easier before committing to a large custom order.
"America is full of makers from businesses large and small," says Testrite Holdings President, Jeffrey Rubin. "We have seen over the years an increase in entrepreneurs, engineers, and fabricators who are able to build businesses using our aluminum materials. While we offer fabrication services through Testrite OEM and Testrite VIsual, Testrite Aluminum will be focused on folks who want to do it themselves and all they need are the right parts, which will now be available at their fingertips on a daily basis"
Testrite invites new and existing customers to check out the website where parts can be purchased al la carte, and extrusions and tubing can be cut to size at no additional charge with no minimums. Whether you need 17 1/8" or 92" lengths, Testrite is here to support you with a simplified purchasing process, streamlined checkout and lightning-fast shipping speeds so customers can get exactly what they need, and receive their materials with ease and confidence every time.
To learn more about Testrite Aluminum visit testritealuminum.com.
About
Testrite Aluminum is a subsidiary of Testrite Holdings, LLC. Testrite Holdings operates as Testrite Visual products, a US manufacturer of visual display solutions who recognizes the importance of integrating graphics into Visual Merchandising, Communication and Presentation environments with graphics that grab attention and convey messages in a tasteful and effective manner. Testrite OEM serves as an original Equipment Manufacturer, fabricating individual parts or complete assemblies for the products of others. Customers leverage 100-plus years of experience, know-how, and existing tooling and Testrite routinely provides customizable solutions quickly and cost-efficiently. Testrite has earned an extraordinary reputation for quality and reliability, durability, clean design, and providing value as a US manufacturer. To learn more about Testrite contact us today.
Testrite Visual is celebrating 104 years in 2023. As a fourth-generation family-owned and operated business, we remain committed to meeting the growing demands of the visual display industry and keep a pulse on those needs with our boots-on-the-ground approach with sales staff located in, and serving clients, all around the United States.
This catalog is the result of months of planning from the talented team Testrite Team. CEO of Testrite Visual, Larry Rubin says it is the largest and most comprehensive product catalog in our 104-year history. Today, let's dive into all the innovation and development over the last three years, highlight some of the key new products, and what you can expect from this amazing new visual display solution sales and design tool.
A Time of Innovation & Investment
The last three years have provided an opportunity for tremendous growth and product development. Unfortunately, during COVID 19, many companies had to pull back in product development and limit their offerings, but Testrite Visual used this time to continue to invest in the business. This included:
Value engineering existing models to improve and optimize products
Developing and rolling out 32 new products
Buying new equipment
Expanding production lines
Optimizing the custom visual display solution process for customers
We have continued to invest and grow our magnetic graphic lines
New Product Spotlight
In 2023, Testrite Visual puts on display 32 new products that have been developed in the last 24 months. Some new product highlights include:
---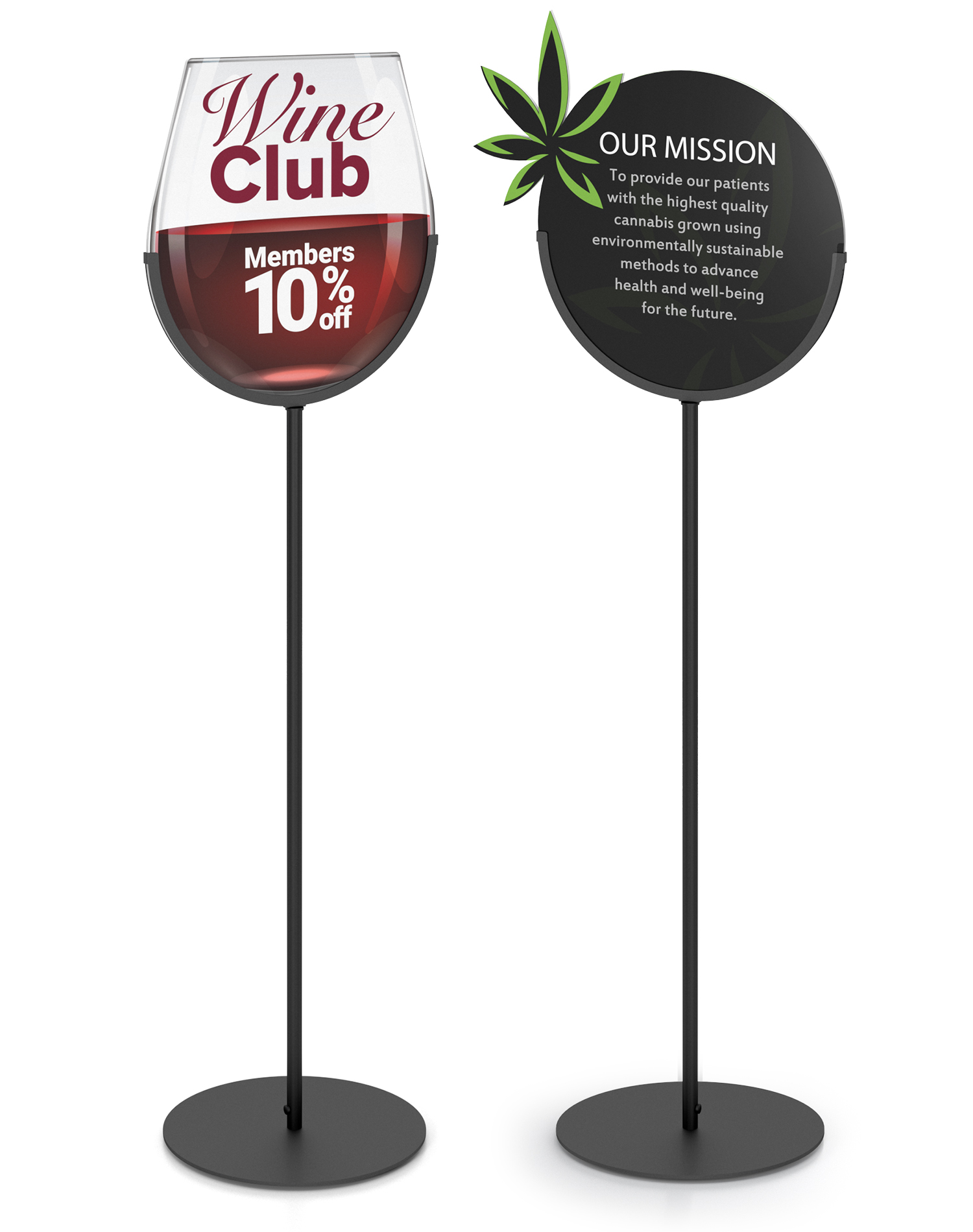 Lollipop stands
Instead of just using standard square and rectangular graphics, Lollipop Stands make it possible to get circular graphics and custom shapes and sizes to suit the brand and application. These stands are ideal for pairing with CNC cut rigid graphics. This has been very popular for facilities departments as well as retail stores, ice cream shops, country clubs, and wine and spirits brands who want to use graphics that reflect the product they sell. Our Lollipop stands let you think outside the square.
---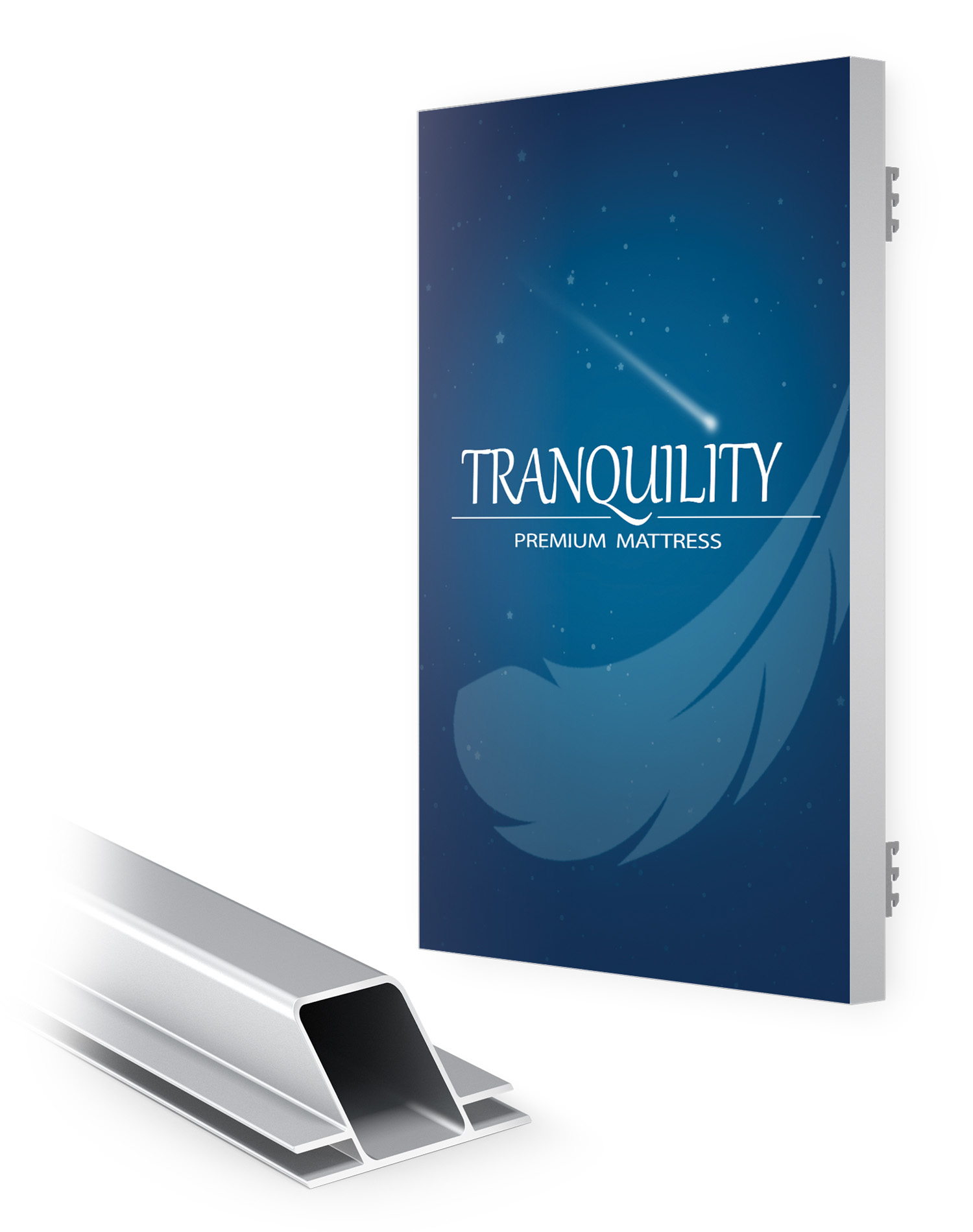 Charisma SEG Air
The new catalog debuts our Charisma SEG Air, a new all-metal SEG profile frame that offers tremendous economy, providing the most aggressive Charisma SEG price points. The Charisma SEG Air is great for Furniture stores, Mattress stores, Retail spaces, Commercial Developments, and in the Hospitality industry. Looking for a low cost SEG frame that's still Made in the USA? Look no further than the Charisma SEG Air.
---
A Frame Signholders
Our A Frame Signholders have been popular for decades, and are now available as an indoor A-Frame sign holder or, NEW, as an Outdoor A-Frame sign holder. These sidewalk signs offer the convenience of graphics drop-in or use a drop-in wet erase insert to make this unit more flexible and functional. The Outdoor A Frame includes 5 design changes to help improve it's outdoor durability, and has become very popular.
---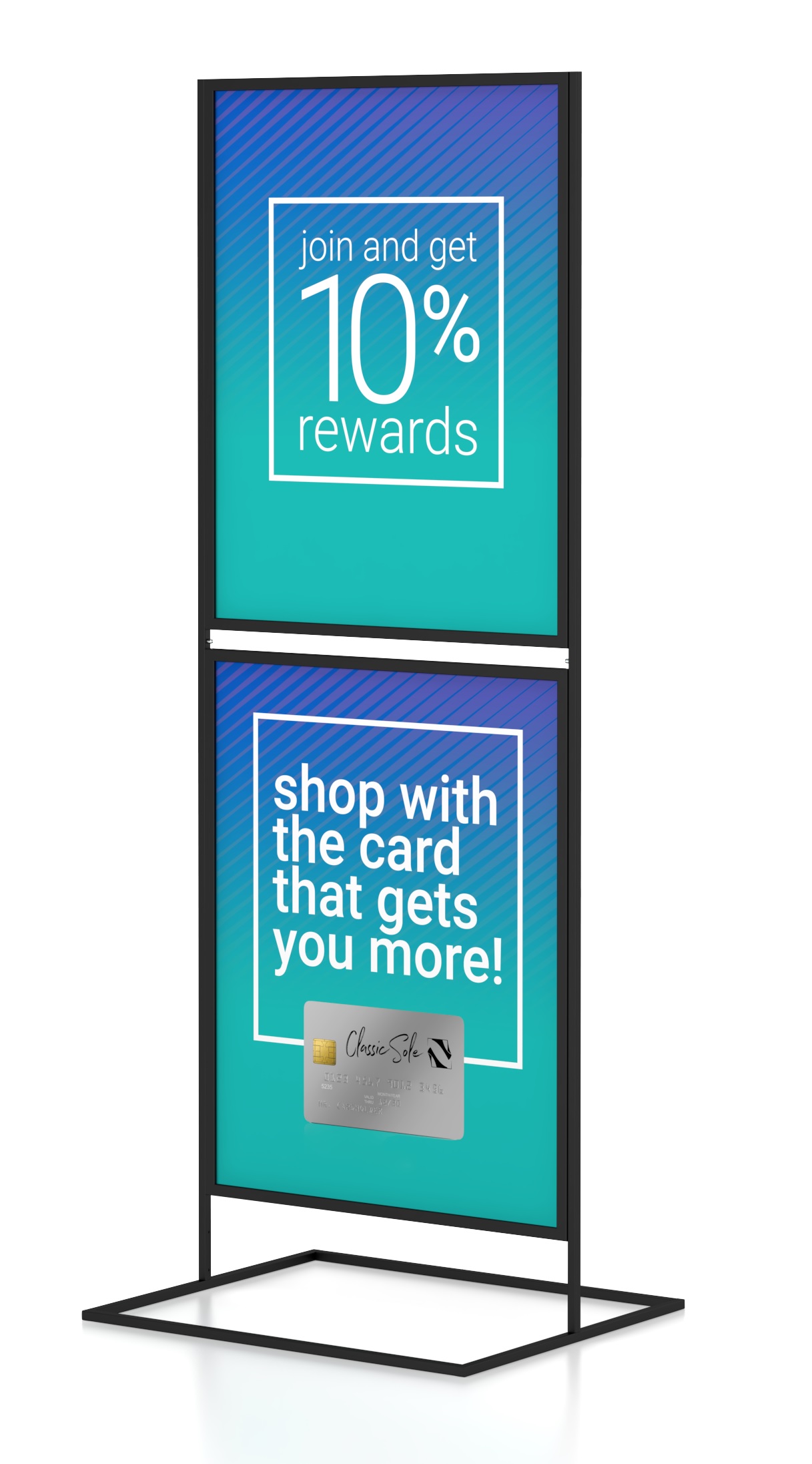 Blade Poster Signholder Drop in Frames
Blade Poster Signholders are the most cutting edge visual display solution with a ?" profile; it is one of the slimmest post signholders available for drop in graphics. Need a poster signframe with multiple tiers? Blade does it without requiring frames to be offset.
---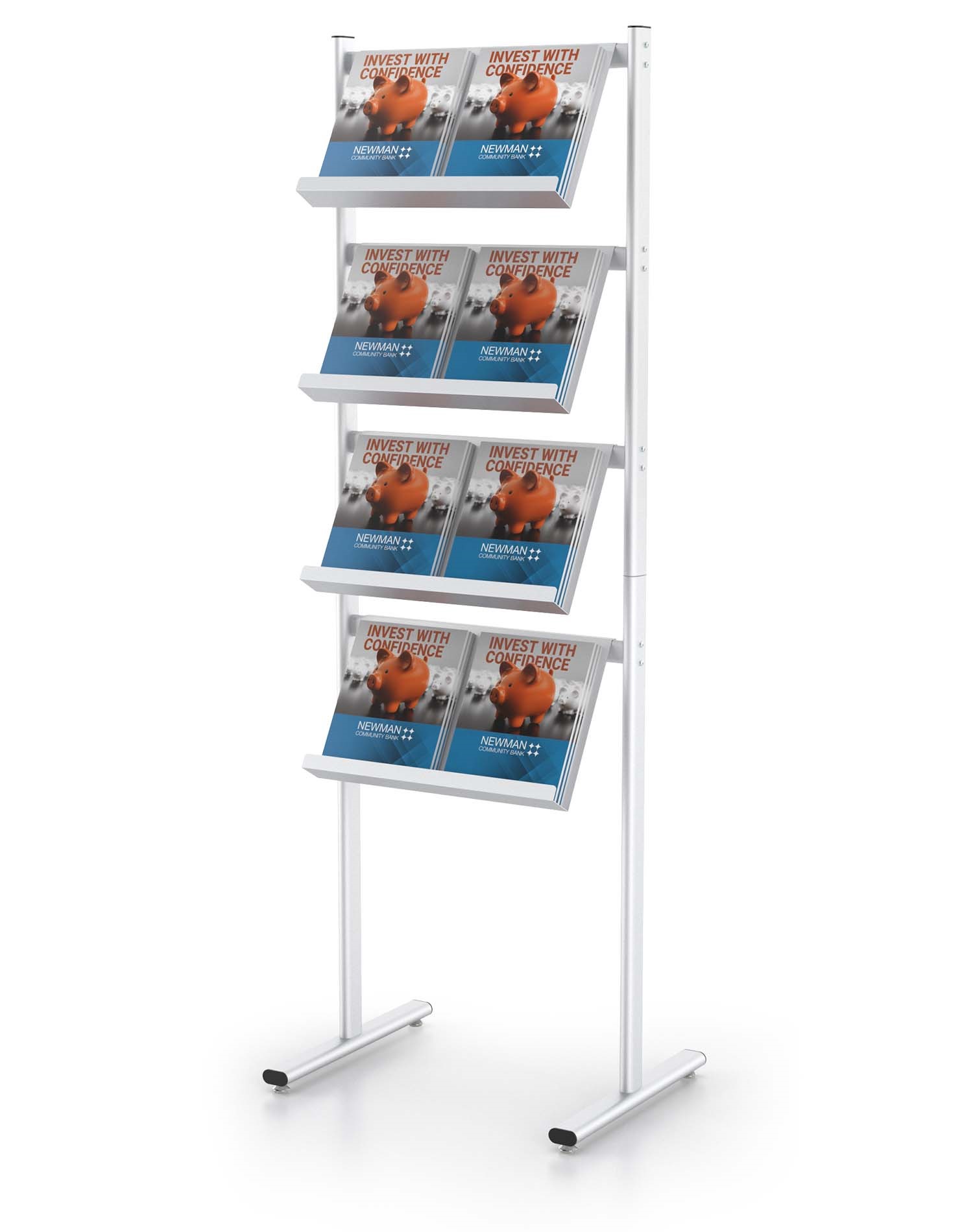 Evo Literature Stands
Our Evo Literature stands are a fantastic solution to display brochures or catalogs. The angled multi-tier shelving design offers a stylish and unobstructed view of magazines, brochures or any other periodicals you wish to display and easily integrates with graphics and graphics hardware. The beautiful anodized aluminum design provides a tremendous modern aesthetic.
---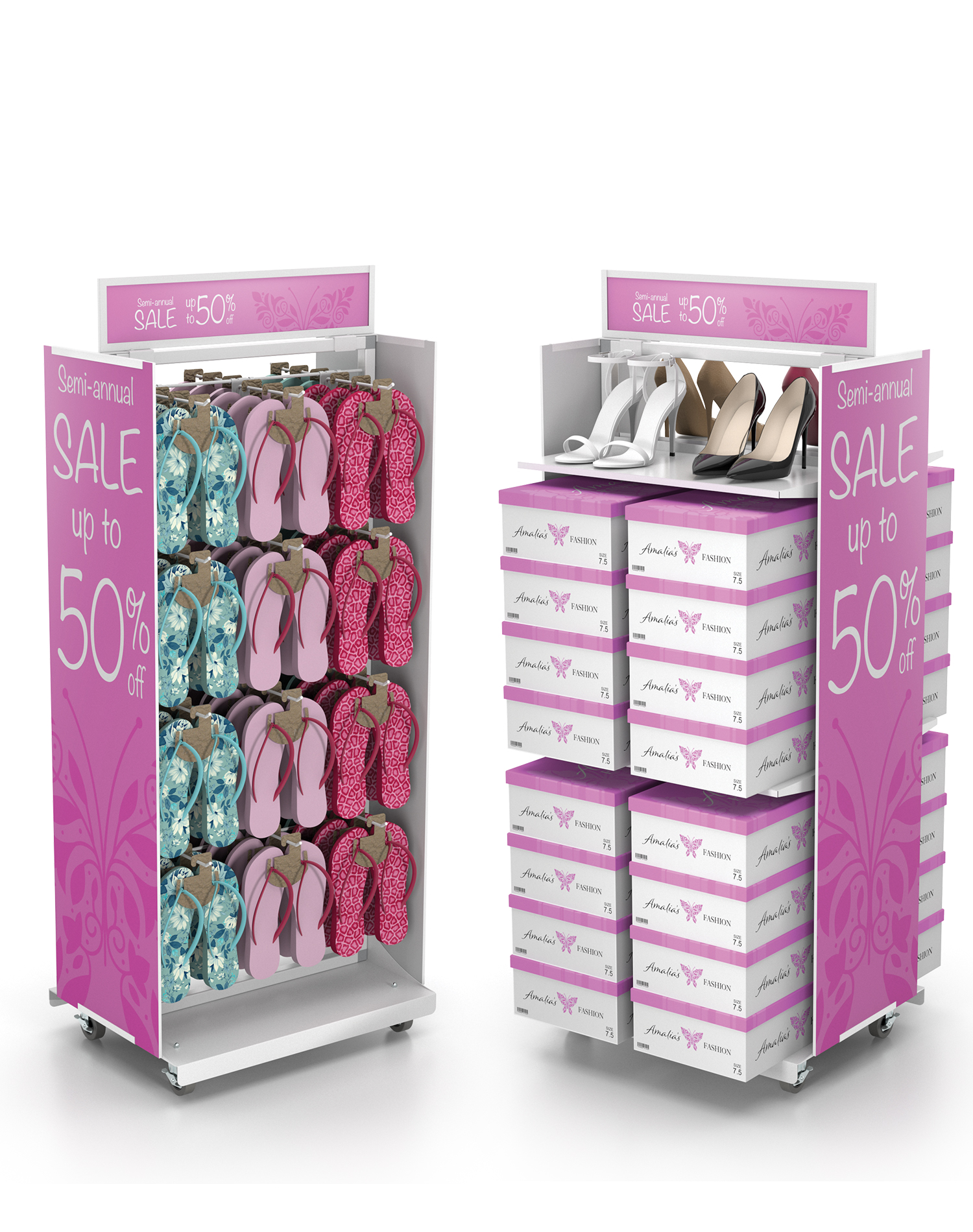 Build-a-Stand
Build-a-stand is a modular retail display tool that can be customized in so many different ways to help you create and design and functionality you can imagine. This 1" Square tubing system can be made portable or stationary making it perfect for pop up shops and retail stores. Build a stand uses 1" square tubing, and customers can buy parts a la carte, or if you need qty 25+ Testrite can design and supply complete stands and fabricate for our customers.
---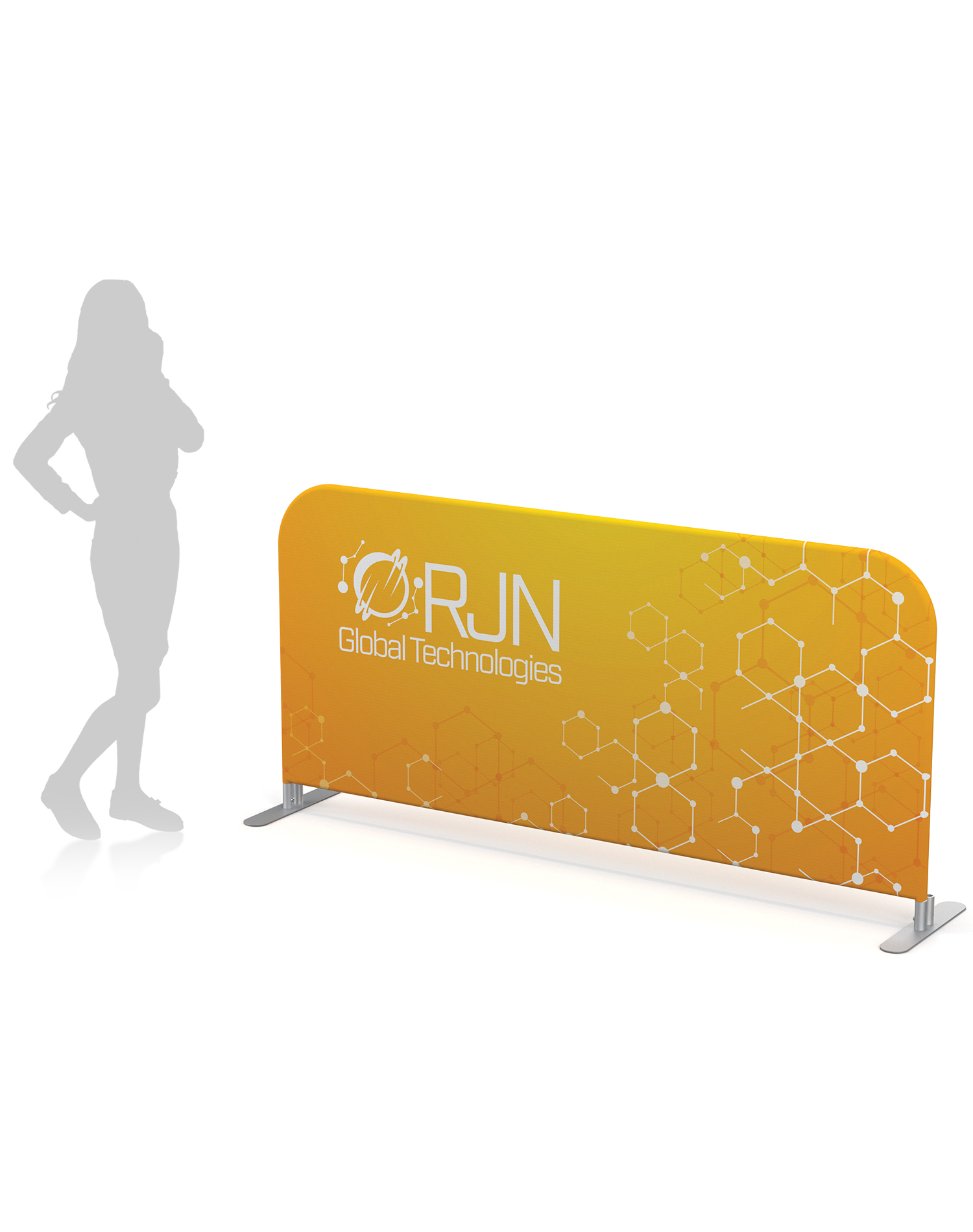 Crowd Q Stand
Crowd Q Stands help direct customers exactly where you want them to enter and exit with Crowd Q Stands! These branded queuing stands are ideal for indoor environments, allow for fast deployment, and are extremely flexible. They are perfect for automobile dealerships and service departments, as well as branded environments within malls. These printed fabric queuing stands are incredibly flexible, enabling long walls or building large enclosed areas.
---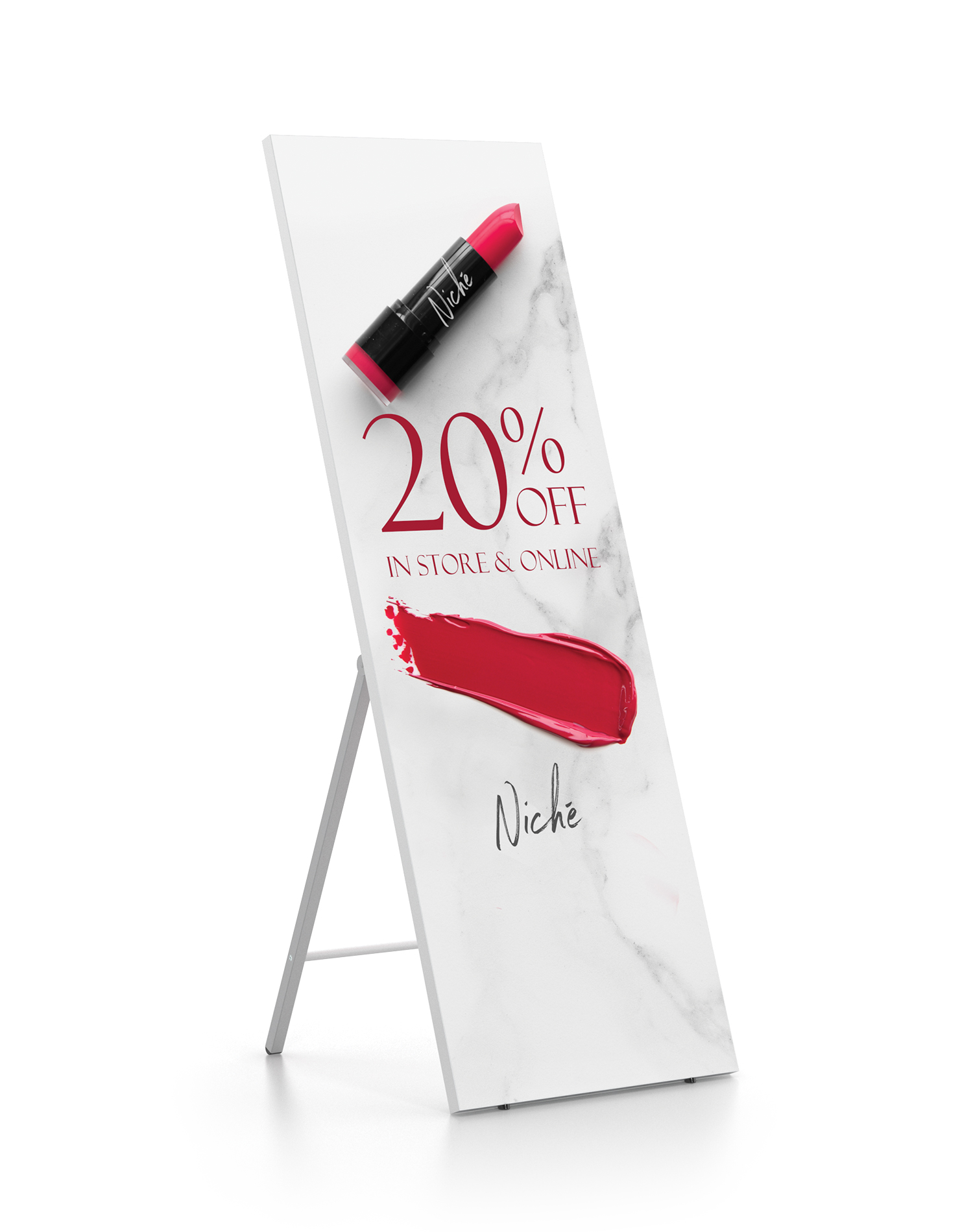 Incline Frame Stands Drop in Frames
Incline Stands are a new favorite in high end retail! This lightweight and portable drop stand is a nice way to provide ambience and information in retail settings. These are the ideal graphic display for specialty retail locations.
---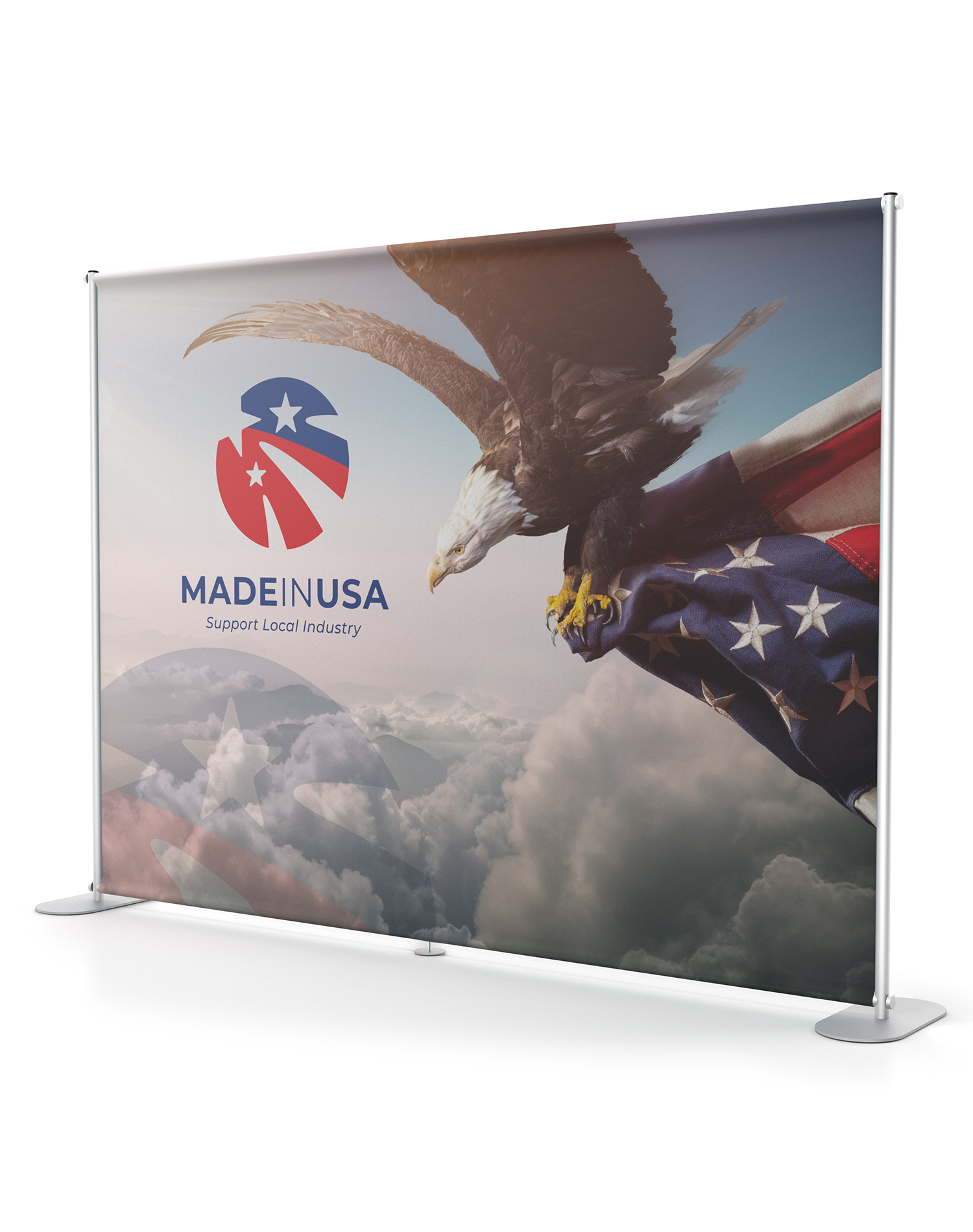 American Eagle Banner Stand
The American Eagle Banner stand is a fixed-width, step and repeat banner stand and one the best large format banner stands in the industry with a beautiful visual aesthetic and high-quality hardware. It is perfect for applications where the banner stand will be up for an extended period of time or where the event requires a more upscale banner stand. By removing width and height adjustability, you can ensure the graphics and stand look great every time.
---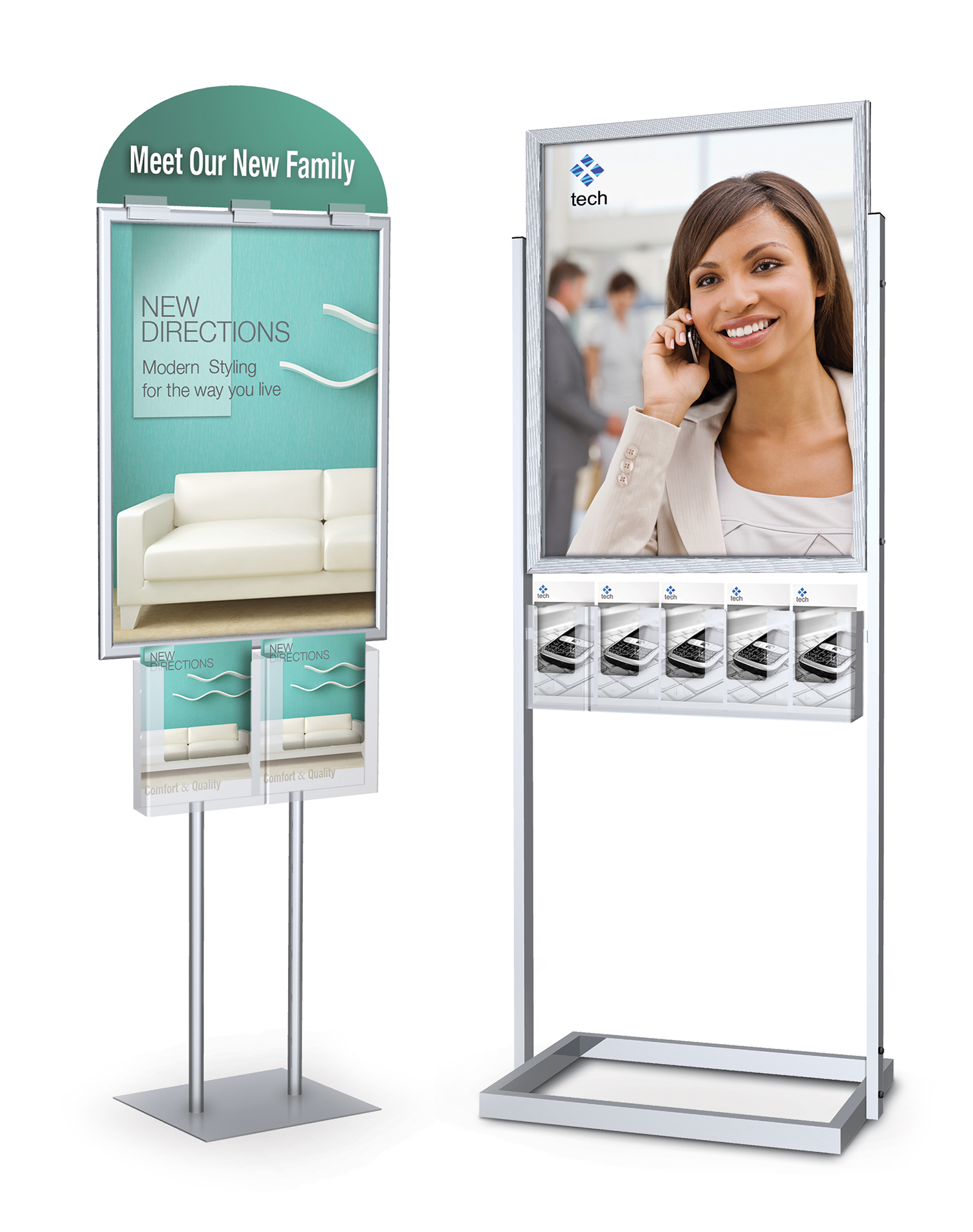 Information Centers
Our new information center visual display hardware offers the ultimate in flexibility with the option to combine drop in graphics and literature holders all in one unit in a single or Double Sided design.
---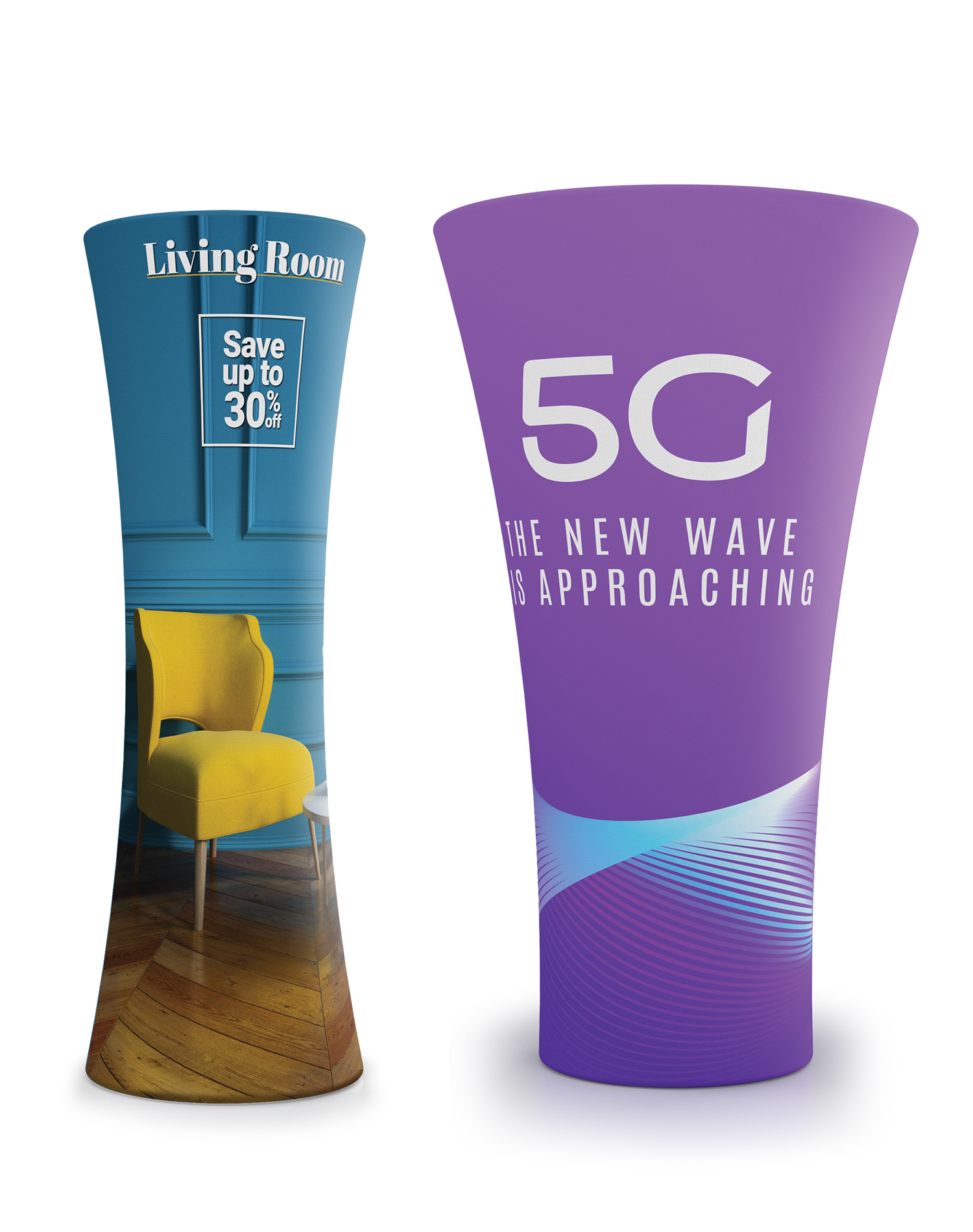 Tornado Towers
Tornado Towers are pillowcase graphic stands for stretch fabric dye sublimated graphics in a funnel design. These are ideal for retail displays that really grab attention with their unique design. They work with pillow fabric graphics installed over a lightweight aluminum skeleton.
---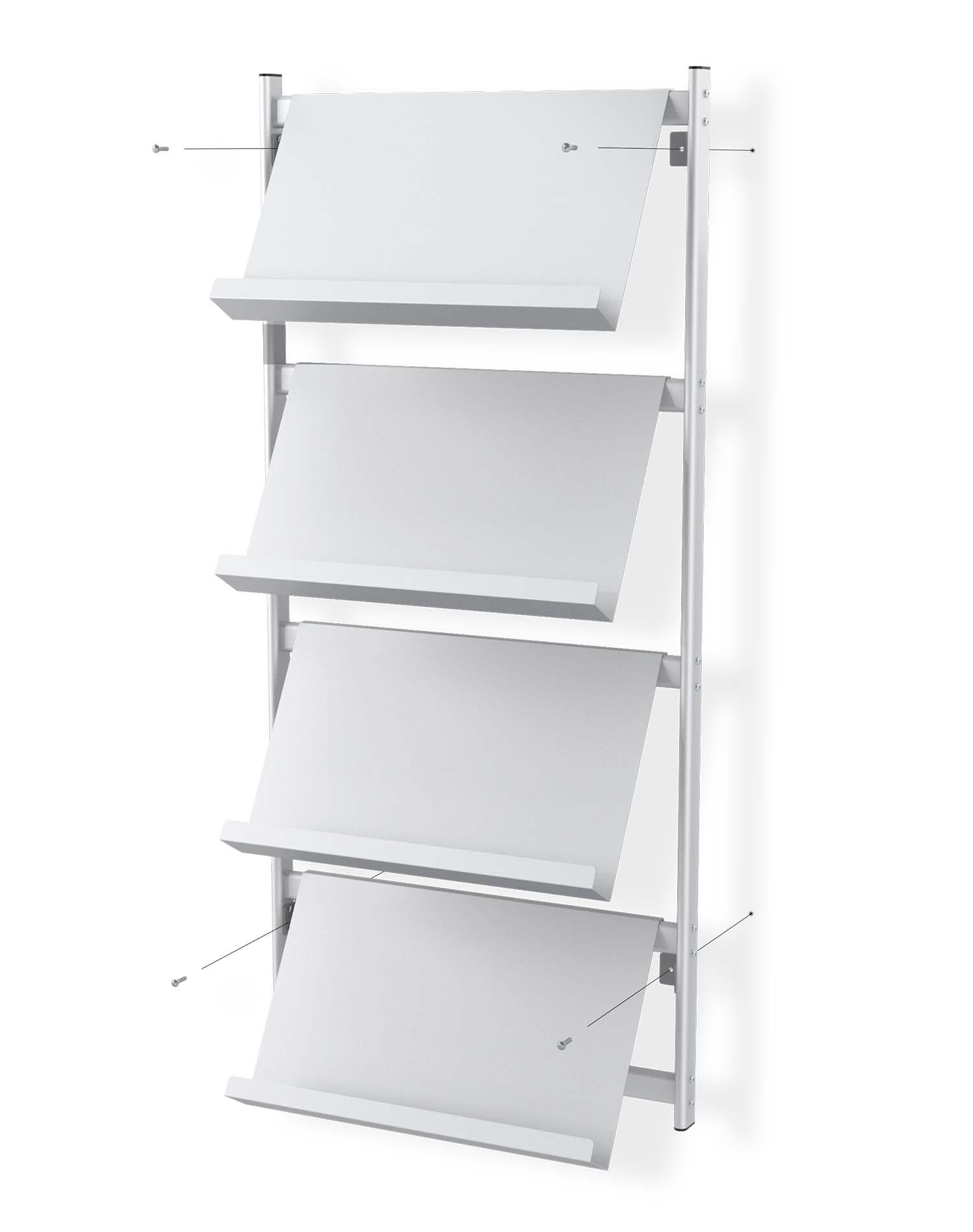 Evo Literature Holders
Our Evo Literature stands are a fantastic solution to display brochures or catalogs. The angled multi-tier shelving design offers a stylish and an unobstructed view of magazines, brochures or any other periodicals you wish to display. This unit offers easy graphics integration too!
---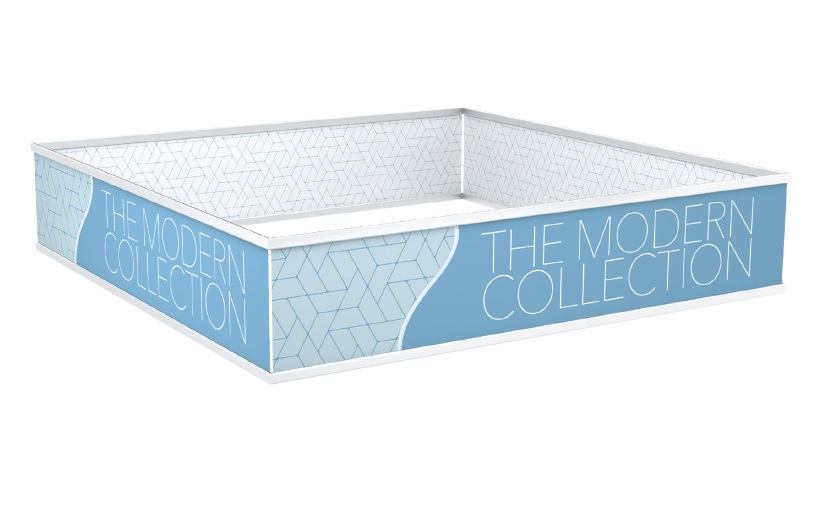 Mini Halo Rail
Halo rails are suitable for curved hanging hardware and circular hanging hardware. They work with styrene and fabric graphics. Building on the successful design and popularity of our original Halo Rails™, we have released the aptly named, Mini Halo Rails ™. it has all the same benefits except with a much smaller profile than the original Halo Rails™.
---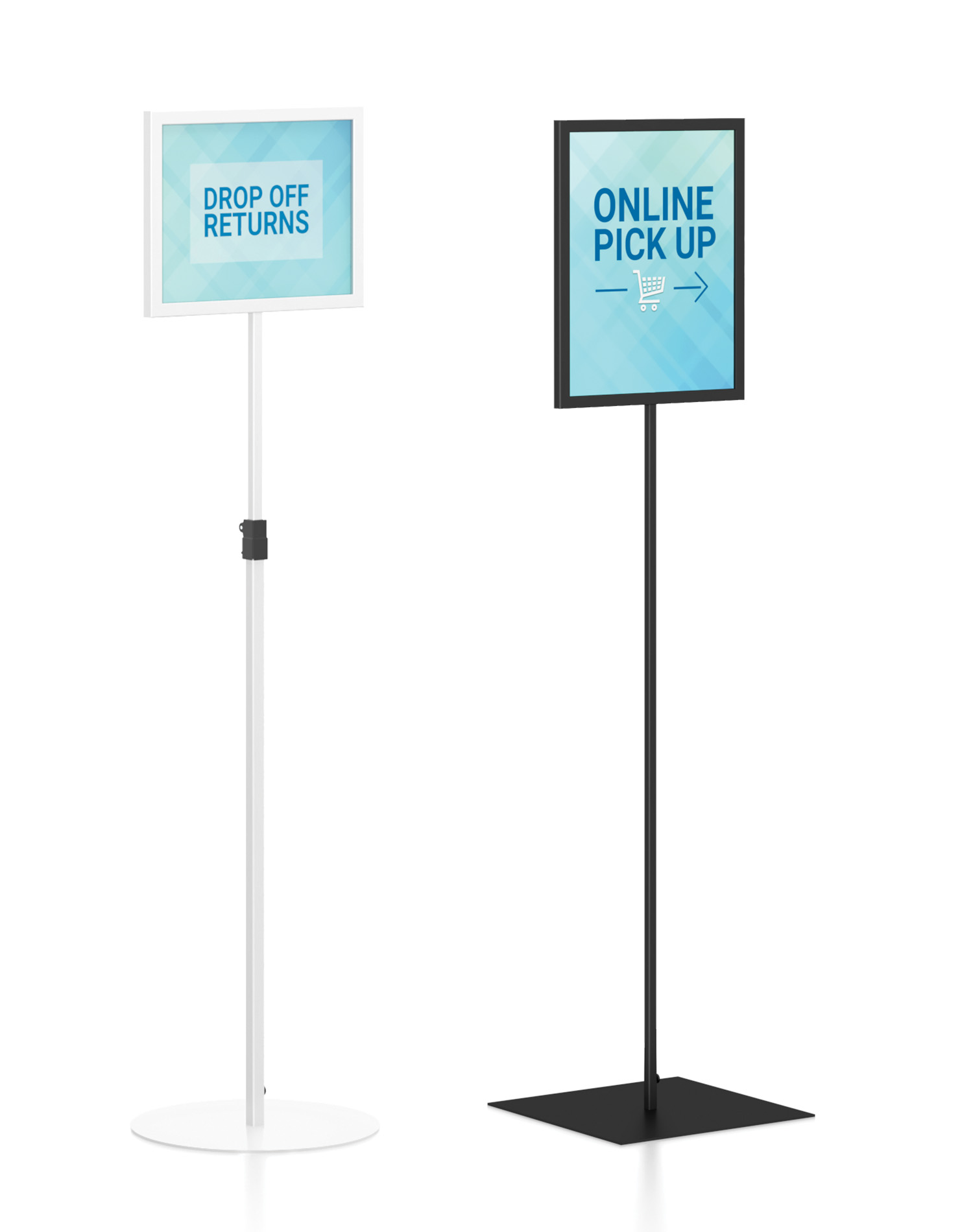 Perfex Pedestal Stands with Square Steel Uprights
Perfect Pedestal Stands are square steel uprights with outstanding strength and simple beauty. They have multope base options and both fixed and adjustable designs, that work with vertical or horizontal graphics up to 3/16" thick.
---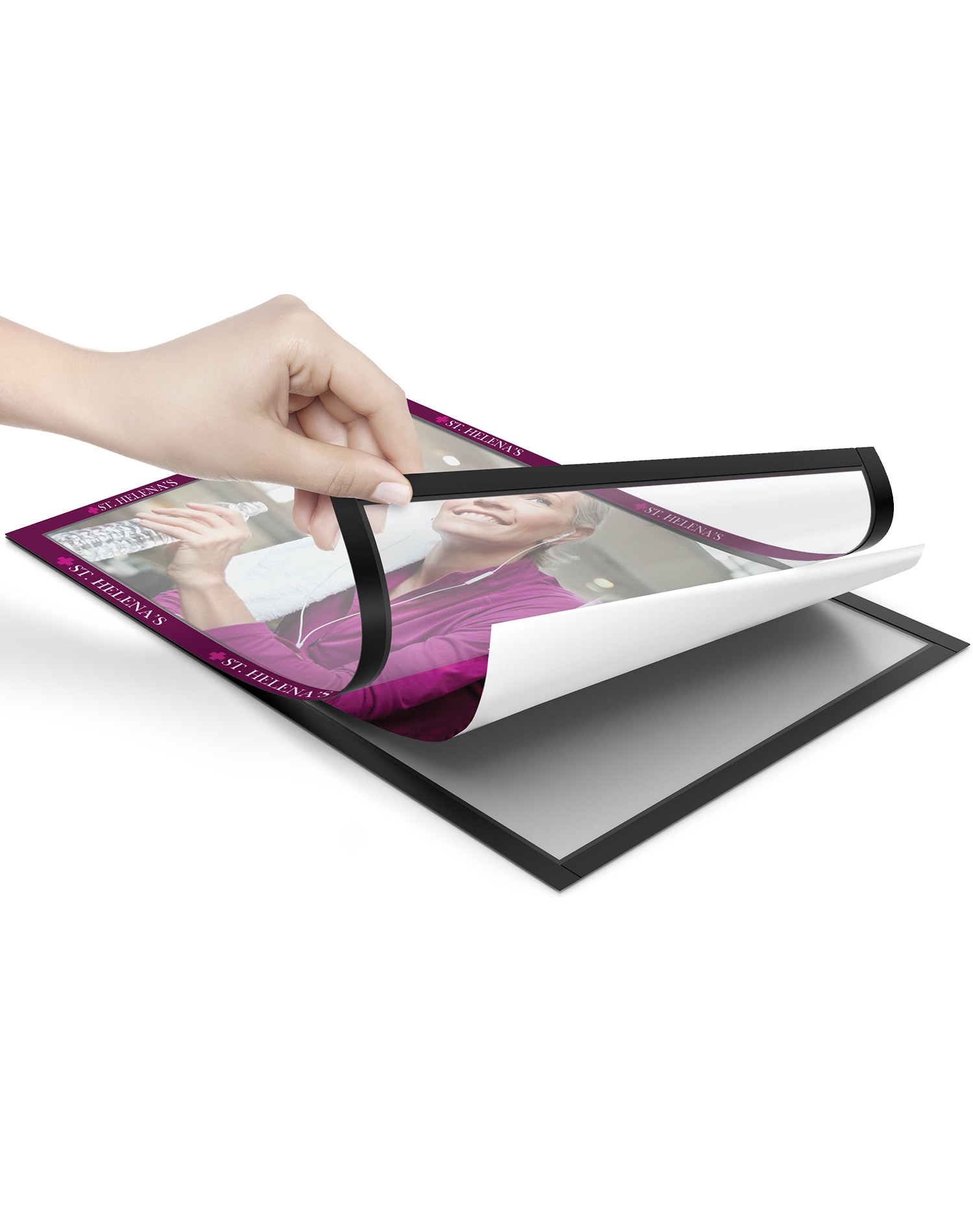 Seewell Info Frames
We are also introducing in Q2-2023 our SeeWell Info Frames ™. These innovative magnetic hanging visual display solution requires no hardware, just hang in the desired location, insert your desired graphic and the hermetically magnetic closure insures the signage stays clean away from dirt and germs.
---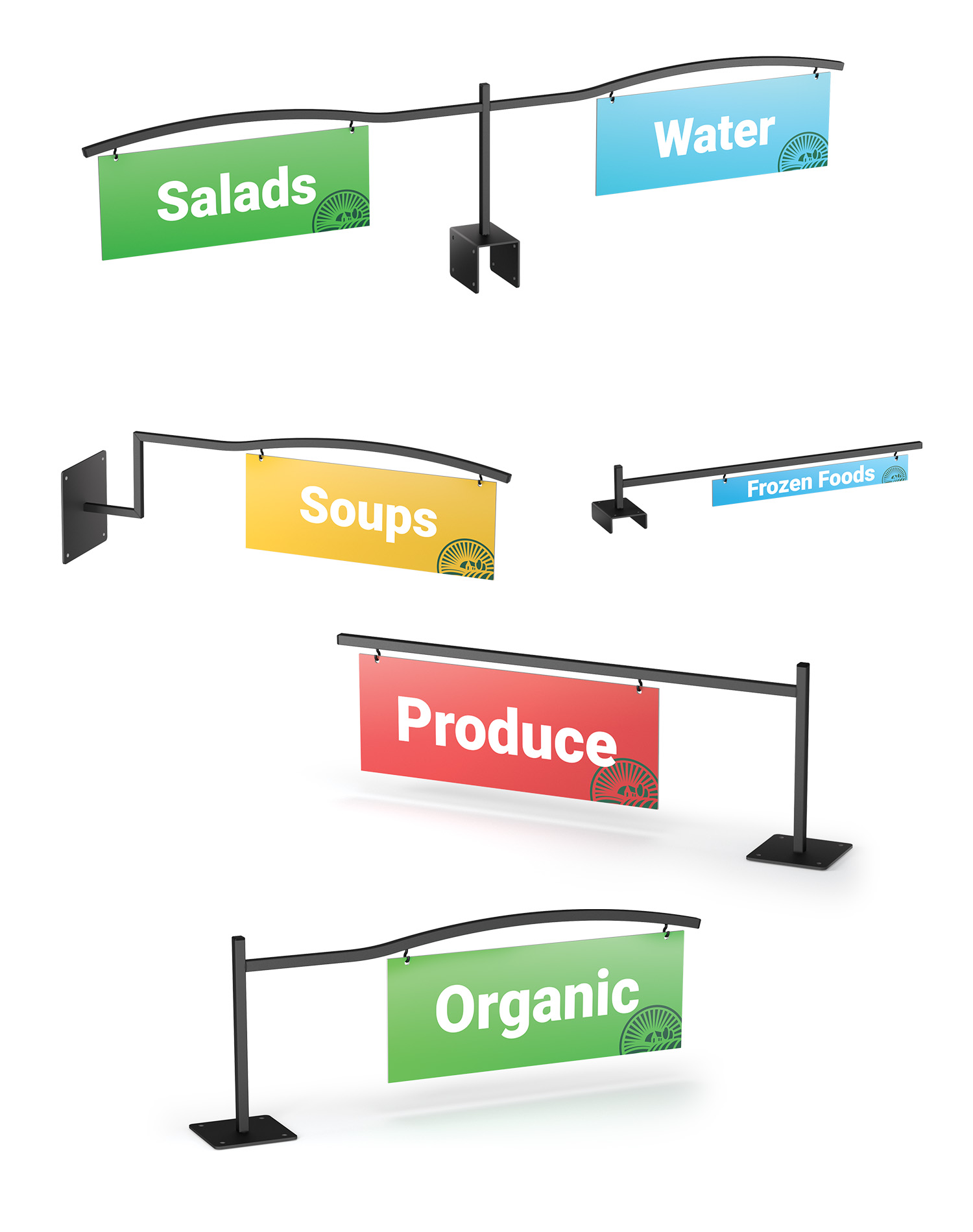 Stellar Aisle Markers
We released Stellar Aisle Markers with our last catalog in one standard color - silver. Now, by popular demand, we are offering bother silver and black as standard colors.
---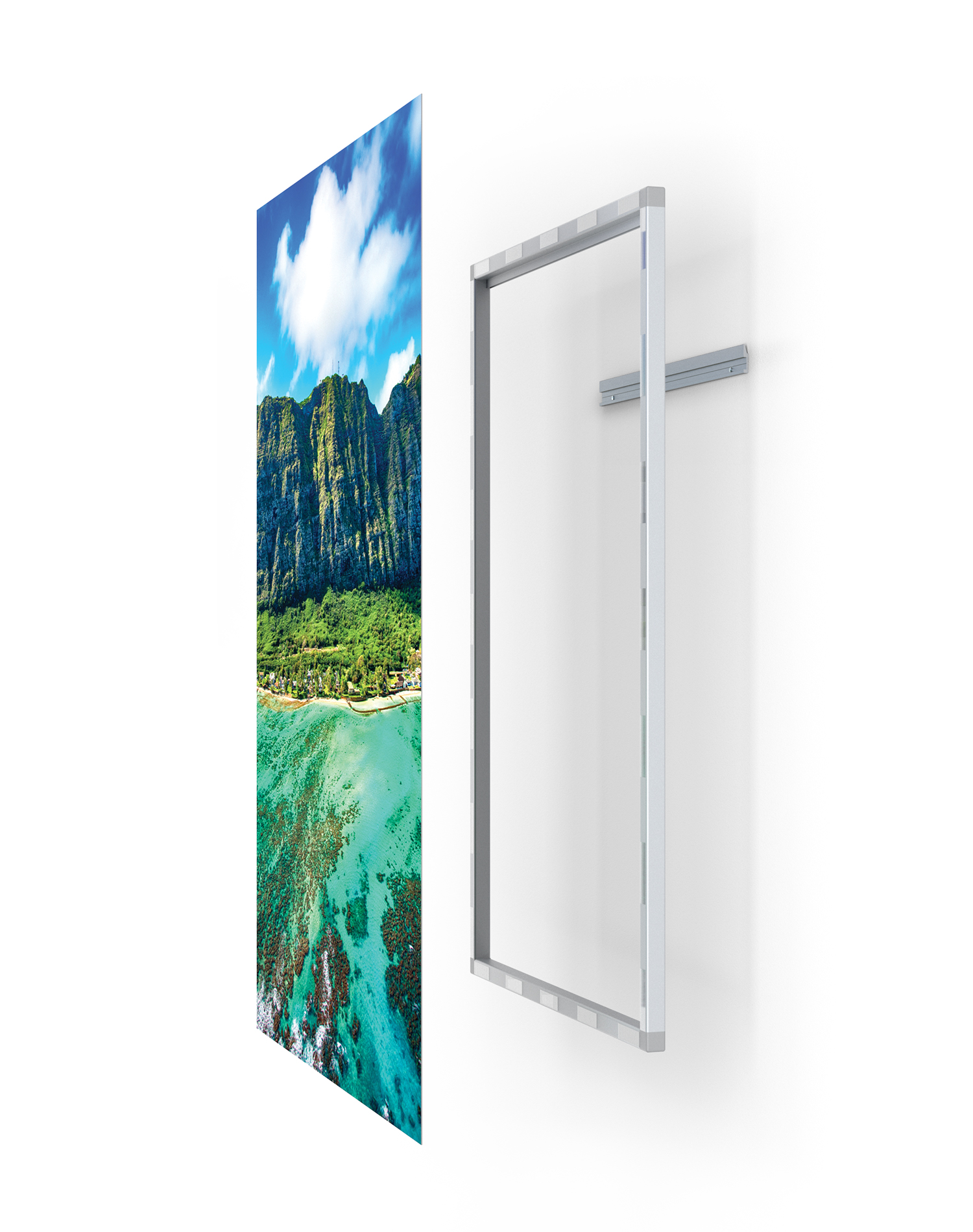 Floating Standoff Mounts
Floating Standoff Mounts allow you to display rigid media with a beautiful frameless design perfect for artists, brands, and printers who are printing on mental panels and want to display digital prints. Prints are set off the wall about one inch for a floating effect that adds eye popping impact with no visible hardware.
---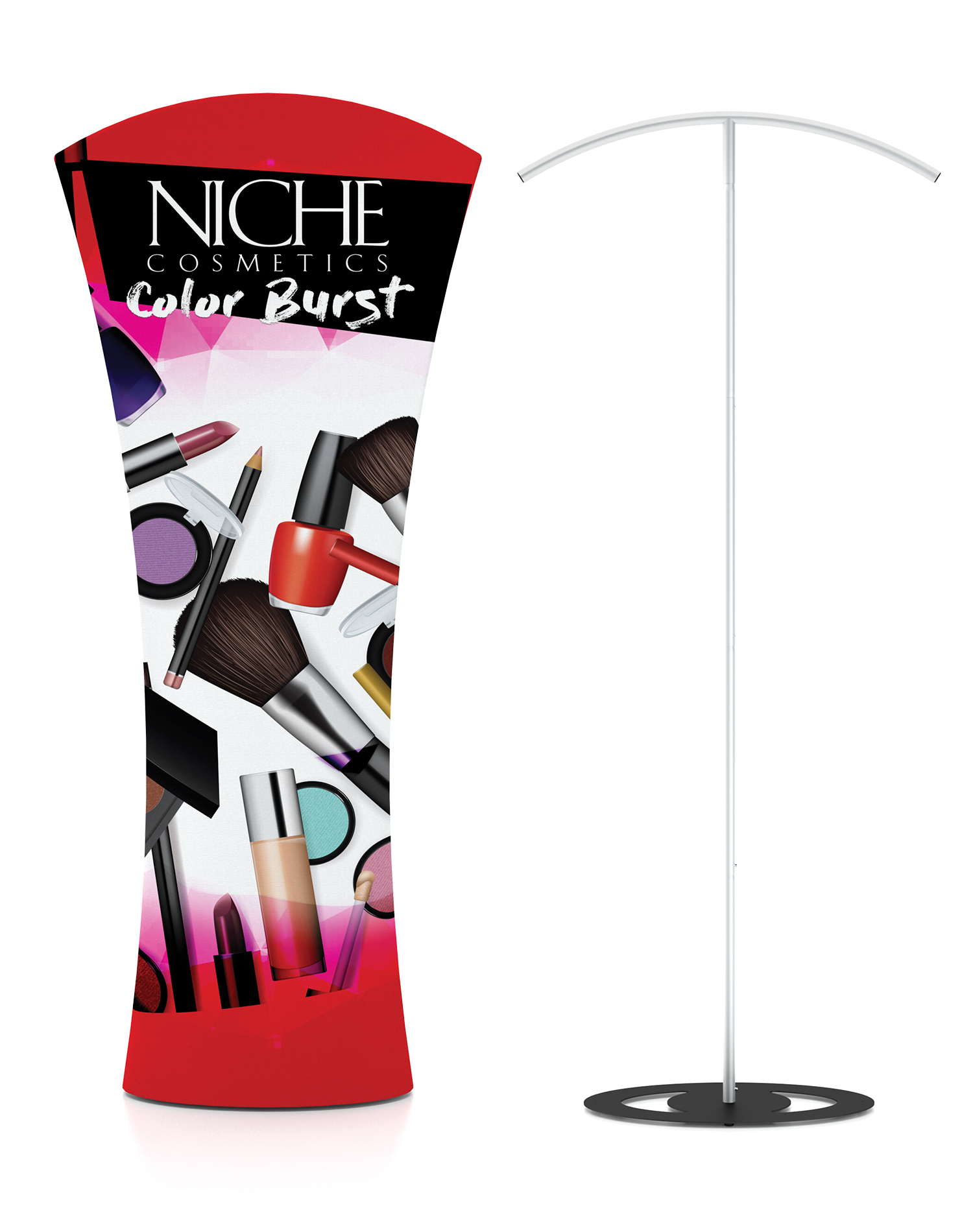 Alle Banner Stands
Allé Banner Stands are a pillow case banner stand made from aluminum alloy tubing, steel weights bases with support brushing that a reaches up to 80" high. The unique design provides a beautiful aesthetic for big impact in a visually appealing curved shape banner stand available with or without double sided graphics.
---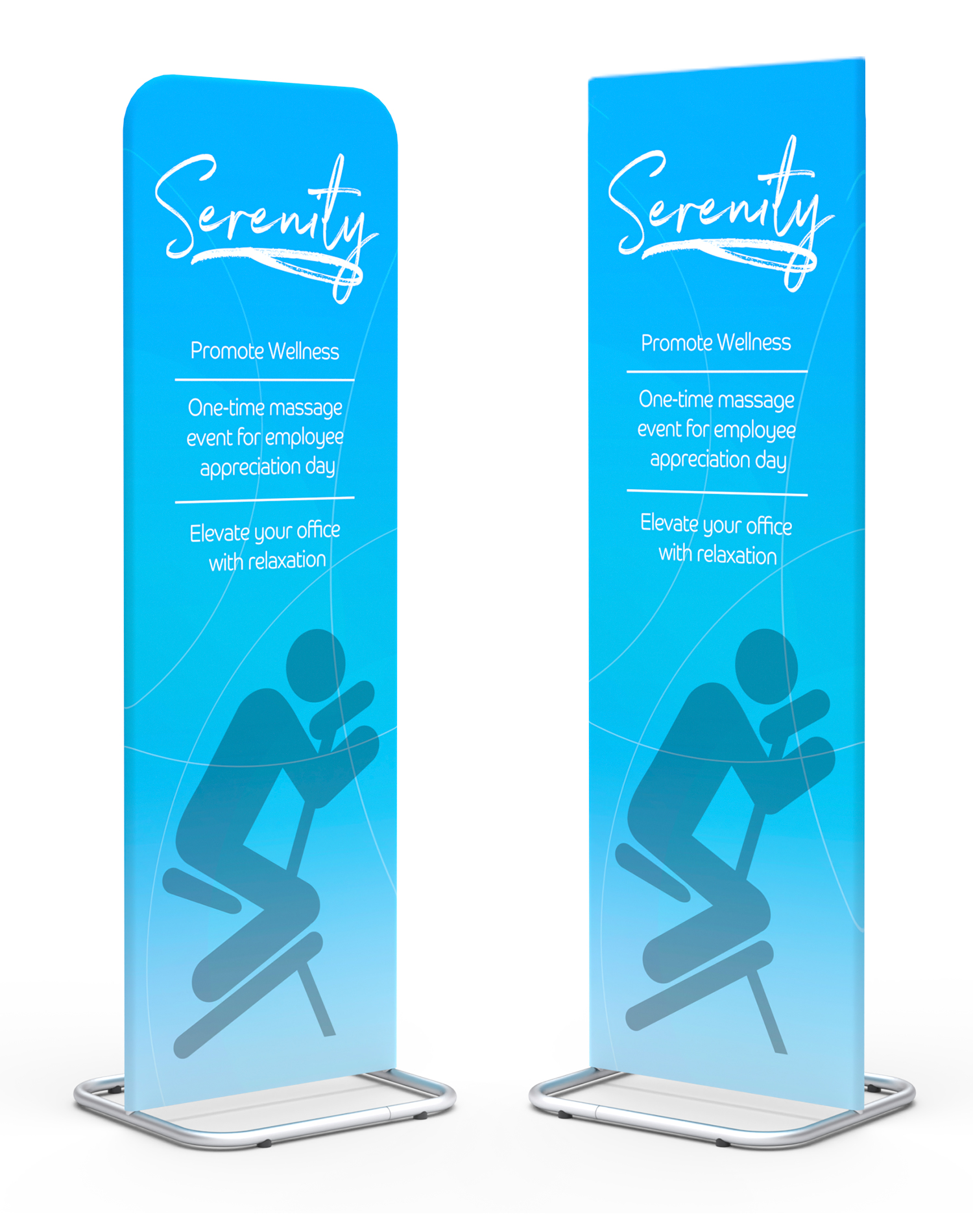 Harmony Air
We are excited to debut out new Harmony Air Banner Stands in our latest catalog. It is the most portable and lightweight banner stand available, with the easiest and fastest graphic change out ever and fast, tool free assembly.
---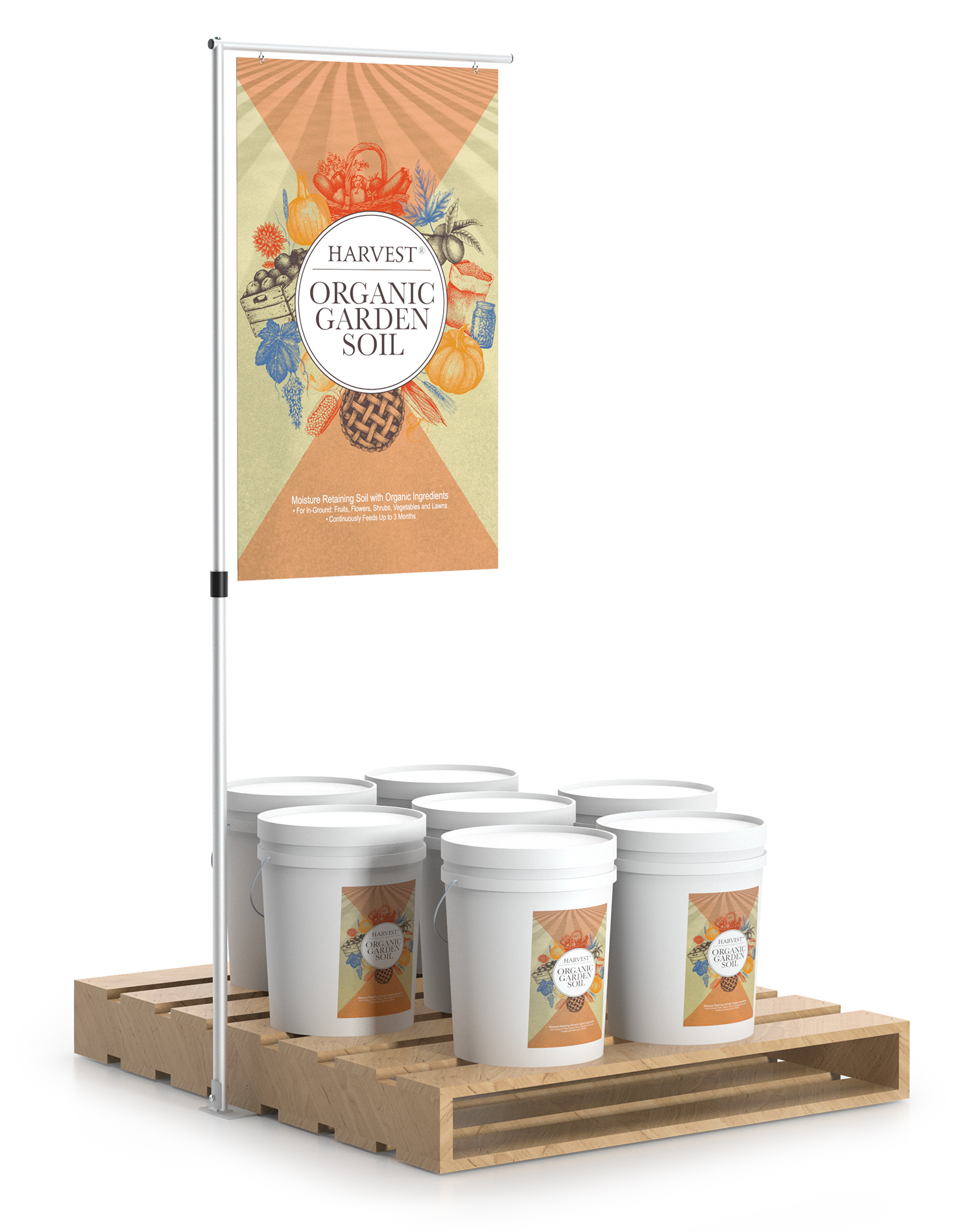 Stellar Pallet Stands
Stellar Pallet Stands are perfect for Big Box Retailers, Warehouse Clubs and Warehouse Signage. Easily pair your pallets with high quality satin silver hardware made with adjustable telescopic tubing for infinite applications .
---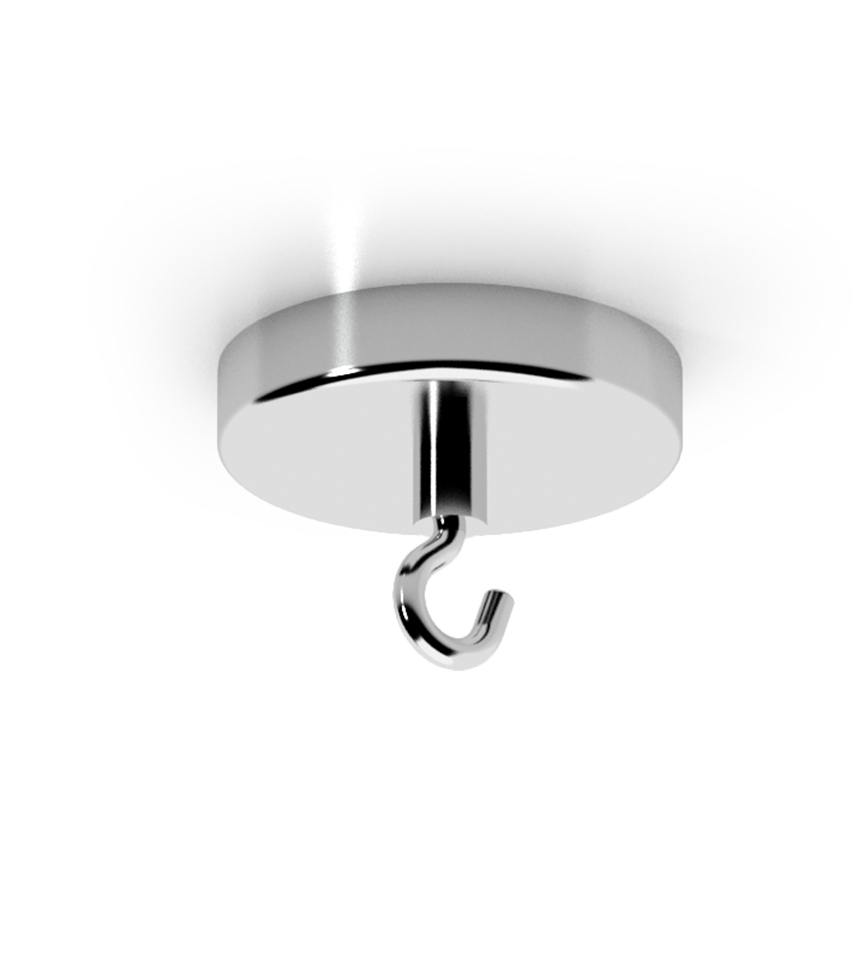 Magnets
For well over a decade we've offered channel magnets and round Neodymium magnets as parts built into our product line. Now we are offering our Channel Magnet for sale a la carte as the RCM-1 (Channel Magnet) and RMB75 - Round 75 Lbs pull rated neodymium magnet
---
Testrite Visual values its relationships with printers and visual merchandisers and designers around the country, and over the last three years, these relationships have grown to include new partnerships. We have also begun to move into new markets and industries looking for innovative, high quality visual display solutions. This includes:
Liquor store display solutions
Wineries and Distilleries
Cannabis retail display solutions
School safety solutions
Medical supplies and healthy retailing
We continue to keep our pulse on the visual display market and look for ways to introduce our extensive product line to new partners and markets where they are most needed.
The Look Book
The 2023 Testrite Visual catalog is designed with the Visual Merchandiser in mind. While it represents our extensive library of visual display solutions, spanning over 200 pages, with thousands of products, it is also the industry-leading look book!
In addition to the substantial selection of standard products, which have been developed over the last 104 years, Testrite will always be a custom manufacturer. This catalog has been expanded to show how our customers have found value in customizing certain standard items to better meet their needs. This includes nine custom examples just for the halo rails alone. From the initial design concept, through prototypes, engineering, execution and final roll out, Testrite Visual is the partner of choice for custom visual display hardware and solution.
Custom requests are always encouraged and we have an in-house team dedicated to design, development, and prototype to help bring your custom visual display solution to life. We offer low minimums and fast turnaround for quotes, prototypes and deliveries.
Submit a custom request today to start the conversation.
Next Steps
If you are interested in working with Testrite Visual for your project and would like to discuss visual display solutions, we have a nationwide team of sales experts with over 100 years of combined experience.
We work with visual merchandisers, brands and branding partners, digital printers and companies of all sizes every day to create stunning visual display solutions for indoor and outdoor applications.
Customers enjoy the convenience of online ordering 24 hours a day or work with a sales and product expert on quoting and project planning especially for custom visual display solutions. No project is too big or too small. We offer sales and logistics support for nationwide brand roll outs for larger projects.
Why Testrite
Testrite Visual has developed a reputation for being value-driven and American-made over its 104-year history. The Harmony Indoor banner stand and New Harmony Outdoor banner stand are just one of the many ways we continue to innovate for the visual display industry to meet the ever-expanding design requirements for today's visual merchandising plans.

Testrite Visual Announces New Custom SnapFrame Lightboxes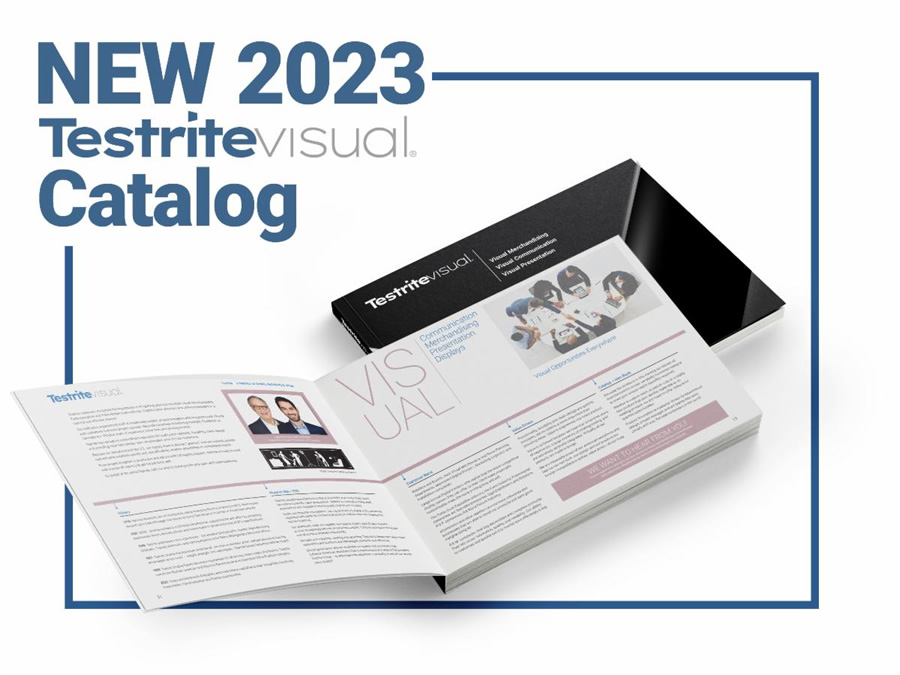 Hackensack, NJ, USA - Testrite Visual, a leading US manufacturer of Visual Merchandising, Visual Communication, and Visual Presentation solutions, is pleased to celebrate its 104th anniversary with the release of the 2023 product catalog.
CEO Larry Rubin, who has guided the company for 49 years, designed the new catalog with his talented in-house teams. Featuring dozens of new products that continue Testrite's tradition of clean design, functionality, service, and value.
As a U.S.-based, vertically integrated in-house manufacturer, Testrite Visual's supply chain is shorter and "greener" with a catalog that showcases over 2000 standard SKUs. In addition, the catalog also highlights the ongoing commitment to customer-driven product innovation. Customers routinely leverage Testrite's wide array of existing tooling, material, and know-how, to create solutions best suited to their specific opportunities. Testrite is able to provide customizable solutions quickly and cost-efficiently.
"This is the largest and most comprehensive product catalog in our 104-year history," says Larry. "It showcases over 50 new products and highlights the unique standard and custom capabilities we offer to brands, retailers, digital printers, marketing companies, and other partners nationwide."
Testrite Visual keeps its finger on the market's pulse. During the pandemic, when many companies cut back, Testrite Visual continued to invest in processes and products that can bring value to its customer base.
To be the supplier of choice for visual merchandising, communication, and presentation solutions, Testrite routinely acts with urgency and timeliness to do the job "rite."
To request a copy of the new catalog visit the website. The catalog is also available for immediate download.
When it comes to visual display hardware and graphics, there is one solution that sets a whole new standard and never goes out of style - Snap Frames and SnapFrame Light Boxes. Today, we are going to explore Snap Frame solutions from Testrite Visual, how they have developed over the last seven decades, and the solutions we are bringing to market today to brands all around the world.
What are Snap Frames
Let us begin with the most basic question? What is a Snap Frame? Snap frames are front-loading media frames. Snap Frames are typically designed to be Wall Mounted with a hinged, spring-loaded frame profile. This design allows the end user to snap open the wall mountable snap frame from all four sides to easily insert the desired media without having to remove it from the wall. Art changes are fast and easy. Because the graphic is held on 4 sides, you can also use a thinner and less expensive graphic. Whether you choose to use paper, styrene, or another thin graphic media, there's no need for a thick rigid graphic with a SnapFrame, allowing for lower cost graphic changeouts.
Snap Frames are one of the most popular visual display solutions available today to display sales, specials and other marketing messages in retail stores; to display menus and messaging in restaurants; to communicate with guests in hospitality applications; to communicate with employees and customers in entrances and break areas; to share hours and options in elevators; and much more.
When it comes to SnapFrames, you want a frame that has a really strong graphic grip. When you walk into a store and see a frame ¼ open on all sides, it just doesn't look right. At Testrite, our customers have told us that our SnapFrames have the strongest grip in the industry! We also offer a wide range of SnapFrame profiles and style options.
We have the quick graphic change snap frame you are looking for!


What is a Snap Frame Lightbox?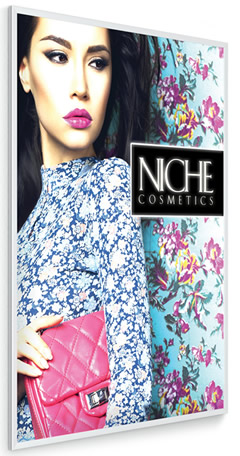 Snap Frames offer quality and convenience. What could make this solution even better? Lighting!
The Supraslim LED SnapFrame Lightbox delivers the beauty and convenience of a Snap Frame with the stunning companion of 6500k color temperature lighting. This lighting is ideal for bringing retail and brand graphics to life.
These ultra slim SnapFrame Lightboxes are ¾" thick and ¾" profile. These are Made in USA lightboxes and are available in standard sizes, and also as custom Snapframe Light boxes. Custom snapframe lightboxes are available in a minimum quantity of one for maximum convenience!
Anytime you add light to your visual display solution you immediately help grab attention and make your messaging stand out. Need printing to go with your SnapFrame lightbox? We can help with that too!

The Snap Frame Market
Testrite Visual is a family-owned and operated American Manufacturer. We have seven decades of experience manufacturing lightboxes in the United States.
Before we entered the SnapFrame Lightbox market we took a look at what was available to our customers.
Importing Snap Frames and Snap Frame Light Boxes
Dometic Snap Frames and Snap Frame Lightboxes
We brought in a range of samples, and frankly, we didn't like the quality or aesthetic of either option.
Imported lightboxes were finicky and subject to easy damage by touching them the wrong way. Imported lightboxes are also a challenge especially when you consider the long lead times, cost, and inconvenience for imported goods. Lightboxes at full size are large and need to be protected, so importing them takes up a lot of room. Domestic lightboxes made by others lacked the performance we would expect from a high-quality LIT lightbox or LED lightbox.
So, Testrite Visual set out to manufacture a "Made in the USA" solution snap frame lightbox that delivered quality, value, convenience, and a great aesthetic. We're proud to say we've won every "bake off" we've been in, where customers selected our product after extensive testing of multiple solutions.
Standard Solutions
When it comes to visual display solutions we know customers want options! This is why we have three standard solutions available for our SupraSlim Lightboxes.
18" X 24" SUPRA SLIM LED LIGHT BOX
22" X 28" SUPRA SLIM LED LIGHT BOX
24" X 36" SUPRA SLIM LED LIGHT BOX
Customers can select their desired size and choose from a horizontal or vertical orientation. We also offer the frame in Satin Silver or Matte Black. Since graphics integration is at the heart of everything we do, customers have the option to purchase a Backlit Graphic to pair with their LED snap frame or lightbox, with custom graphic printing available.
Construction & Design
We take great pride, and great care, in the design and construction of our snapframes and snapframe lightboxes. When you look at a Testrite SnapFrame or Snap Frame Lightbox you will notice a modern, clean design created by the precise miters, a super thin ¾" depth and an equally thin ¾" front leaves design with a ¾" profile.
Our units are made from lightweight aluminum alloy construction which makes it easy to work with and install. These units will accept Duratranse graphics up to 1/32" thick and a clear protective lens is included with every order along with the wall mounting hardware.
We offer both LIT snap frames and LIT lightboxes. These are illuminated poster snap frames that utilize LED bulbs and an acrylic Light Guide Panel (LGP) to disperse light evenly across a displayed sign or poster. Standard, we perimeter light our acrylic panel on the two longest sides, and include a built-in reflective back panel. This combination offers fantastic light dispersion while still providing low voltage and energy efficiency, 6500° K color temperature and utilizes a low 24V external power source.
Non-LIT Snapframes and Non-LIT lightboxes offer the ease of front-loading graphics with the beauty of a slim frame profile. Our LIT Snapframes are UL Certified and bear an individually numbered holographic UL sticker on each frame. While our lightboxes are ideal for wall mounting, they are not for use in high heat environments nor in direct sunlight.
Customers are eager to pair custom backlit snap frames with non-lit frames because LIT SnapFrames and LIT lightboxes can be used to really grab attention, especially in retail; while Non-LIT Snapframes and snapframe lightboxes can be used to inform and deliver custom messaging. It is a perfect combination! We offer our ¾" SupraSlim in both lit and non-lit options, so your frames will match!
Custom Solutions
Speaking of custom… Testrite is your go-to solution for US-made custom light boxes and custom snap frames. We have expanded our custom capabilities for lightboxes and snap frames due to increasing interest from the retail industry. SnapFrame Lightboxes are becoming more and more popular for retail store fixtures, but for regional and nationwide rollouts, every store is a little different, so they may require a different size or configuration.
Because of our advanced design and manufacturing capabilities, Testrite Visual is able to offer the following custom solutions:
Custom widths and heights SnapFrame lightboxes
Custom frame depth from the wall with custom bracketry
Custom design to suit custom graphics
Custom colors including PMS color matching and RAL color matching
Choice of style
Custom sizes with a standard color
Custom frame finish
Choice of custom brackets to attach to your fixtures
And more.
We are also able to offer custom SnapFrames and custom SnapFrame Lightboxes starting at quantity one for the most flexible custom solution available today. We are just as happy to make a custom solution as we are a standard size, and we encourage custom requests.
Ordering
It is so easy to order from Testrite Visual. Here are the three most popular ways to work with us:
Testrite Sales Team - Our team has over 100 years of combined experience in visual display solutions and visual merchandising and we have reps around the country.
Shop & Buy Online - Our website allows customers to easily browse, budget and buy hundreds of snapframes and lightboxes right online. Typically our lead time for individual piece custom orders is one week, while larger orders can take longer. We do offer standard size SnapFrames in our QuickShip program if you have a quick lead time.
Custom Requests - if you have a custom request fill out a short form and get connected to a product expert. We turn quotes around fast and can even help with design and prototypes.
When you order from Testrite, you can rest assured that your order, processing, and communication is all US based which helps to create the best customer service experience.
We have been able to safely ship thin film lightboxes and Duratranse lightboxes via UPS saving our customers thousands of dollars in shipping. Our in-house logistics team will ensure your order is packaged with care and we can help with single, regional, or nationwide rollouts for orders of all sizes.
Testrite Visual has developed a reputation for being value-driven and American-made over its 104-year history. The SupraSlim LED SnapFrame Light Boxes™ are one of the hundreds of US-made hardware and graphic solutions available to meet the growing needs of today's visual design professionals.

Testrite Visual is an elite manufacturer of visual display solutions for local and national retail store brands. Their team of design, visual merchandising experts, and engineers strive daily to look for new ways to make their retail visual display solutions even better. As a fourth-generation, 103-year-old family-owned and operated business and American manufacturer, we focus on providing hardware and solutions to integrate graphics into the retail environment. To learn more about Testrite contact us today.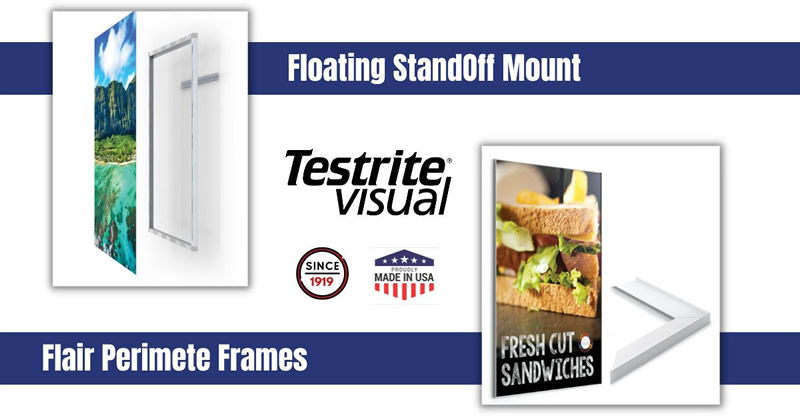 Hackensack, NJ, USA - Testrite Visual, the industry leader in American made visual display hardware, is excited to introduce two new products in its line of high-quality hanging graphic solutions. These products are being rolled out as part of an effort to help printers and SignShops grow their sales.
The two new products being rolled out are the Floating Stand-Off Mount and Flair Perimeter Frame. The Flair Perimeter Frame and the Floating Stand-Off Mount are both designed to disappear behind the graphics which is why Printshops and Signshops love them.
The hardware takes a back seat to the imagery so high quality prints and graphics can stand out. The Floating Stand-Off Mount offers a frameless design, while Flair Perimeter Frames offer a thin 1/16" bevel. Both products are made with lightweight aluminum. Use for permanent graphics, or order with Hook & Loop closure, so graphics can be changed again and again. Testrite Visual ships these products unassembled allowing for cost efficient packaging and easy storage.
This hardware is ideal for retail and hospitality applications especially for corporate and hotel artwork.
"Testrite Visual has been a go-to partner for printers and SignShops all around the country for over five decades," says Testrite President, Jeffrey Rubin, " We know that printers and sign shops are empowered with more capabilities than ever before in terms of being able to print onto rigid media, and these are the ideal graphic mounts to highlight their beautiful work."
Testrite Visual is actively looking for distributors and partners to wholesale these frames to local printers and signshops. With a secure portal for shopping, ordering, tracking, Testrite Visual makes it easy for Printers and SignShops to resell hardware to their customers to expand product offerings and increase revenue.
Testrite Visual has strategic partnerships with hundreds of printers and SignShops all around the country. Testrite offers Printers and SignShops a 103 year history, consistent quality, American made manufacturing and craftsmanship, with exceptional service, and modern conveniences like QuickShip, online order tracking, dropship fulfillment and more.
About
Testrite Visual is Testrite Visual is an elite manufacturer of visual display solutions for local and national retail store brands. Their team of design, visual merchandising experts, and engineers strive daily to look for new ways to make their retail visual display solutions even better. As a fourth-generation, 102-year-old family-owned and operated business and American manufacturer, we focus on providing hardware and solutions to integrate graphics into the retail environment. To learn more about Testrite's contact Testrite today.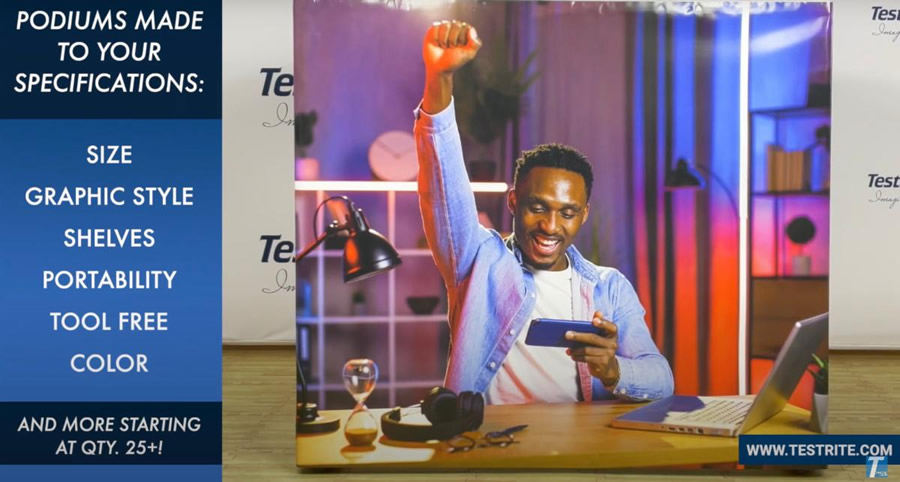 Hackensack, NJ, USA - Testrite Visual, the leader in US Made visual display solutions, is rolling out a new custom marketing solution that works for businesses of all sizes.
After months of prototyping, Custom Podiums are now available as an affordable, brandable marketing tool in quantities of 25 and up. This new style hardware can be used as Trade Show counter, Sales Podium, Sell and Tell Counters, Food Prep Demo counter, or Cell Phone Sales station - and these are just a few of the installations where Testrite Visuals new custom podiums are being used.
Testrite Visual's custom podiums are a sales station, branded visual display, and foot traffic enhancing marketing tool all in one and customers have complete control over the design! Testrite's Custom Podiums are made to order with design options include lightweight Aluminum or Steel tubing, or single piece rollaround steel bases. We offer shelves, custom brackets and cross bars to suit your application. Customers can select just the right style countertop, from waterfall edge laminated wood to cost efficient expanded PVC (EPVC).
And, since graphics integration is at the heart of every piece of hardware made by Testrite, there are multiple graphic options. Looking for individual graphics? Customers can add up to four interchangeable graphics to a stand with Charisma SEG Podiums. Is cost efficiency critical? In that case a single wrap around graphic might fit the bill. Backlighting podiums adds emphasis and excitement to these sales counters. Need your team members to be able to stand behind the podium? Removing the rear crossbar allows staff to stand comfortably behind it.
Testrite offers sales and design services to help clients find the right design to meet their needs. Visit www.testrite.com to learn more and connect with a team member.
About Us
Testrite Visual is a fourth-generation, 102-year-old family-owned and operated business and American manufacturer focused on providing hardware and solutions to integrate graphics into the retail environment. Testrite specializes in creating innovative visual display solutions to elevate visual merchandising. For more information regarding our banner stands and options, contact us today!