News & Views
The New American Eagle Banner Stand Combines Elegance with Durability
Testrite has long been an industry leader in visual merchandising hardware, copied often, never replicated. Our innovative designs and our reputation for quality are why customers continue to come back to us again and again.
Competitors will once again find themselves lagging behind Testrite with the release of the new
American Eagle Banner Stand
. In this article, we will show you exactly how the American Eagle Banner Stand soars above the competition's knock-offs every time.

What Is a Banner Stand?
You've seen them on social media, at trade shows, during grand openings, red carpet events, and galas. Essentially, a banner stand is a large, fixed banner that can help you draw attention to a logo or graphic and can be used as an attention-getter or photo backdrop, often referred to as a Step and Repeat. Step-and-repeats enable your brand or logo to shine, providing the backdrop for photos both by Press and event goers. A well-placed banner puts your company or message in the center of attention for maximum visibility and attention.
What does the competition bring to the table? We always say, if you see duct tape on a stand, it's not a Testrite product. Cheap imports fall apart, they may only work once (if at all), they're often under-sized, and they sag. Testrite manufactures the definitive industry leading adjustable grand format banner stand. Now, we are building on that success with a new high end, upscale, large format banner stand that's built to wow.



The American Eagle Banner Stand
Testrite is the original designer of the large format banner stand. Our latest model, the American Eagle, once again will create the "WOW" factor at your next event.
Available in four different widths and three different heights, you'll find just the right size for your company and event. When ordering, you can choose between the following:
5'W x 6'H and 5'W x 8'H
6'W x 6'H and 6'W x 8'H
8'W x 6'H and 8'W x 8'H
10'W x 8'H and 10'W x 10'H
The stand's Jumbo Pole Pocket and 1 ¼" diameter crossbars also make it fast and easy for anyone to install and prevent graphic sagging for a clean and elegant look.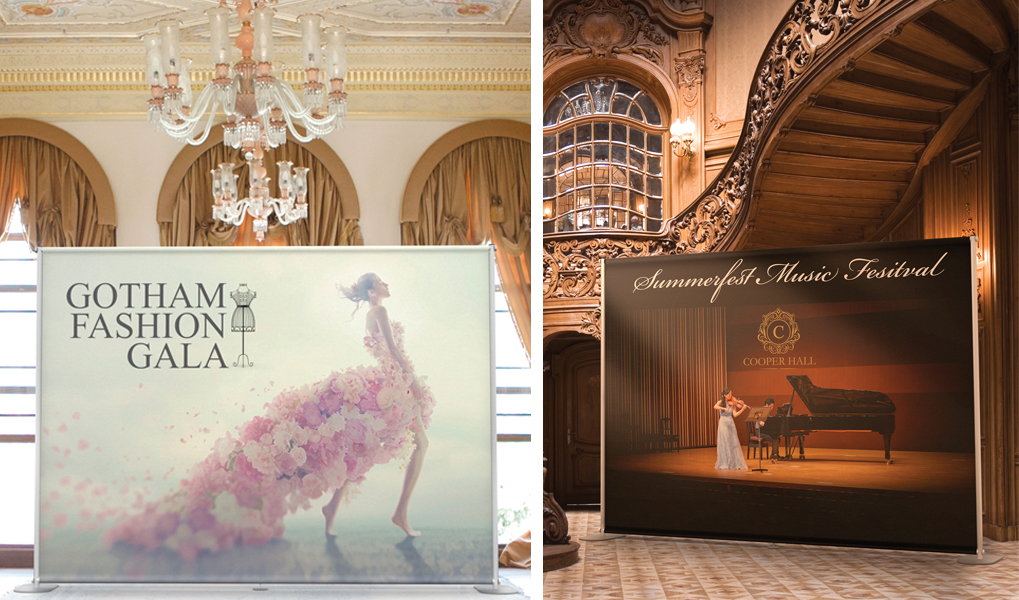 What Makes the American Eagle Different?
For over 102 years Testrite has stood by the mantra "Made Rite". The American Eagle Banner stand is no exception. We have been crafting the most stable and beautiful banner stands for over thirty years. We know the look our clients desires, and incorporate this input into each and every design as well as testing of our construction.
Testrite American Eagle Banner Stand outshine its competitors. For one, it can't be beat when it comes to quality. Businesses that need a large-format banner stand need one that is going to stand up to the multiple setups and teardowns that it'll endure over its lifetime. With heavy duty steel bases, solid aluminum bushings, and fewer sections, the unit is the most rigid banner stand we have ever made.
Another important feature of the American Eagle Banner Stand is that it's lightweight. While durability is essential for any product that is going to be transported to various locations and events, so is the ease with which it can be transported. We don't believe that easy-to-carry means needing to use cheaper material. Made of aluminum alloy, the stand doesn't require a team of strong-armed individuals to transport it and set it up, yet it has the sturdiness and durability needed to withstand being moved frequently. Attractive oval Steel bases provide weight where you need it.
The American Eagle also stands out from the competition by placing emphasis on aesthetics throughout its design. The American Eagle is constructed with fewer sections, which provide a more rigid and solid look to your graphic, minimizing sag. As a fixed-width banner stand, the American Eagle also allows for less adjustability. What that means is you know that you will have a consistent look no matter who is setting it up, whether it's their first time or 21st.
The American Eagle Banner Stand boasts the following features:
Pole Pocket graphic mounting
Attractive recetrack oval steel weighted base
Satin Finish with Aluminum Pucks
8' & 10' wide sides in 2 sections
Heavy-duty solid aluminum joiners between split sections
Fixed height and width for consistent presentation
Uprights have slotted bottom to allow for graphic tensioning
Finally, our completely made in the USA banner stands are shipped to you, knocked down for cost-efficient transit.
The Pandemic Impact
In our industry we know that cheap imported knockoffs are out there. While low prices are attractive, everyone in this industry knows you get what you pay for, and Testrite's products deliver US Made quality you can count on. While an import may work once (no guarantees), Testrite products are built to last, which is why they include a Limited Lifetime Warranty.
Enter the COVID19 pandemic, a worldwide phenomenon that through the global logistics network into a frenzy. Containers cannot ship or are being delayed in customs. Some containers are waiting for months to be accessed even after they land at the US port.
Throughout this experience, more and more businesses are returning to American made reliability and our easy access, quick lead times, and US based sales and support team has never been so popular.

What Makes Testrite Different?
There's a lot about our business and manufacturing practices that make us stand out from products that are made and shipped from overseas.
Testrite is proud to be a US-based manufacturer for all of your visual merchandising hardware, displays, and graphics. We do everything in house from the initial design and prototype, to the manufacturing and welding, to shipping and logistics.
For over 102 years, we have made smart and reliable products to solve all of your hardware needs, from banner stands to drop-in frames to hanging graphic hardware and everything else in between. Smart, reliable, made "rite" for 100 years. Fill out a custom request form today to talk about your display needs or shop online at our website offering a convenient and comprehensive shopping experience. Whether you need a custom banner stand for step and repeat events, or a red carpet long pop up banner stand, Testrite's US Made Quality has your back.
For more information about how our American Eagle Banner Stand can help your company with visual merchandising,
visit our website
for a convenient and comprehensive shopping experience.