News & Views
There are many decisions that go into an effective Visual Merchandising Plan. Designers must consider every little detail from the moment the customer arrives at their store. What's the path for customers looking to complete a BOPIS purchase? What path do we want consumers to follow for in-store purchases? What will grab shoppers attention to draw them deeper into the store or compel a purchase?
At Testrite Visual, we work with Visual Merchandisers to design and execute effective strategies for your retail customers and your priority to create the best design plan that considers a 360-degree view of the customer experience. One that will maximize horizontal and vertical spaces to grab attention to deliver customer messaging. One of the best ways to maximize vertical space and draw customers deeper into the store is through hanging graphics and hardware.
Testrite Visual has a broad category of hanging hardware solutions. This month we are going to focus on a growing product line: Halos ™ and Halo Rails ™.
Halos ™ are circular 3 dimensional aluminum structures wrapped in tension fabric. Halo Rails ™ can be circular, straight, or curves/arcs, and provide a top and bottom rail for styrene or pole pocket fabric graphics. We'll dive into each one to give you more details.
Straight Rail System
Halo Straight Rails™ kits use top and bottom aluminum profiles with graphic holders and sliding hanging hooks. The sliding hanging hooks make for an easy installation process. Halo Straight Rail™ is available from 24" up to 72" standard. If you need custom or longer lengths, or multiple sections, we offer custom capabilities with low minimums of only ten units.
Halo Straight Rails™ are a great straight banner hanging system for use in retail environments or Trade shows, providing an attractive and simple method to display long Styrene graphics or long Pole Pocket in a finished manner. The bottom rail hanging down serves to help "stretch" straight the graphic. The length of graphic is up to you, as the top and bottom rails are connected via your graphic.
When ordering, customers can specify Fabric Hemmed Graphics or Styrene Graphics. Fabric Hemmed Graphics use included plastic dowels which are hemmed into pole pocket graphics. The Styrene Graphics hang from internally placed screw spacer sets which are included in the kit. We do also offer a staple on plastic U extrusion for our Halo Straight Rails™, though these are "custom" order items.
As a US manufacturer, custom is our specialty. Testrite Visual is also equipped to handle custom orders including super large custom structures and sizes with low minimums. Custom color banner hanging systems are also available.

Curved Shape System
Testrite Visual offers three Curved Shape systems. Halos™, Halo Rails™, and the new Mini Halo Rails™.
Halos™
Halos™ is our original curved shape tension fabric graphic system. The hardware practically disappears behind your graphics. These mated circle frames are great for retail, tradeshow, and industrial applications. Graphics are typically provided for the outside of the ring, with the inside open, allowing for the same or differentiated graphics on the inside and the outside. On brand messages to customers on the inside of the ring where not everyone will look allow a convenient avenue for creativity ideal for the Social Media generation looking to post with a #hashtag.
Halos™ are offered in two styles; the standard Halos™ or the tapered design. The standard Halos™ are made with an equal diameter on the top and bottom. The Tapered Halos™ feature a larger diameter top and a smaller diameter bottom. Custom diameter and custom height Halos™ round stretch fabric structures are both available.
Whether you order the Straight Halos™ or Tapered Halos™ , this hardware is made from high-quality aluminum with a satin anodized finish. Steel Eye Bolts are included and units should be professionally installed. To make installation easy, the Halo ™ units come with swage and spring button assembly with easy coded connection points.
Halos™ integrate well with other hardware. We offer Hanging Harnesses as well which allow our circular structures to all hang from a single point. This cuts down on installation time, only needing to hang from a single point, and it can allow the Halos™ to spin, either on a motor you supply or with ambient airflows. Other complementary accessories including adjustable hanging cables are an easy add on to any order to make sure you have everything you need.
Our Halos™ are suspended aluminum tubular frame structures which hold stretch fabric graphic circular structures. This unit can be made with a companion pillowcase graphic featuring beautifully printed stretch fabric, which should be ordered at the same time to ensure a perfect fit. However, the Halo™ is also sold as a hardware-only unit. If you are supplying your own graphics, we recommend purchasing the frame first, and then ensuring your printer or printing operation has the frame on hand at the time the graphics are being finished to ensure the right fit. Graphics can be digitally printed or provided in a single color to match a Pantone.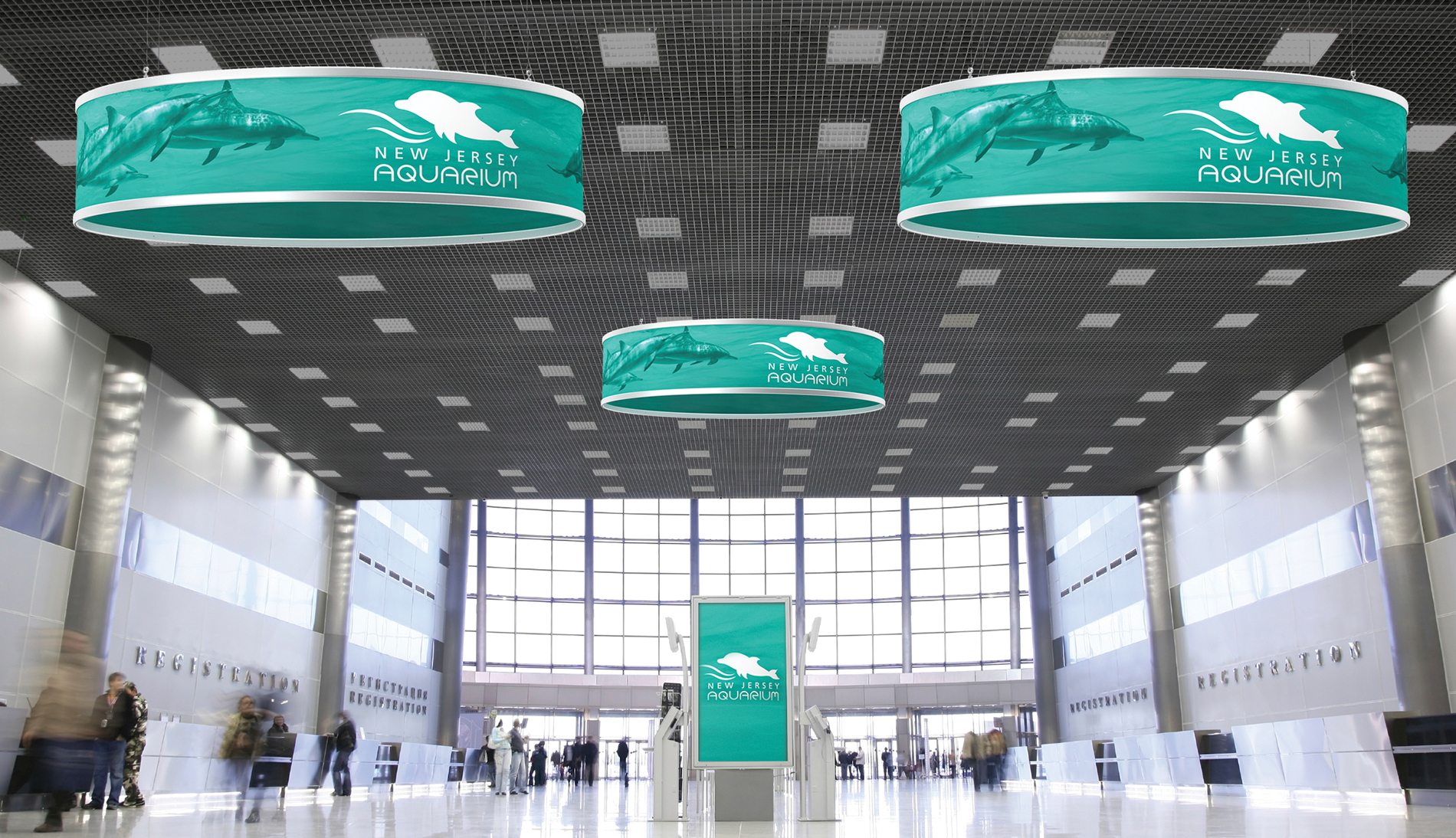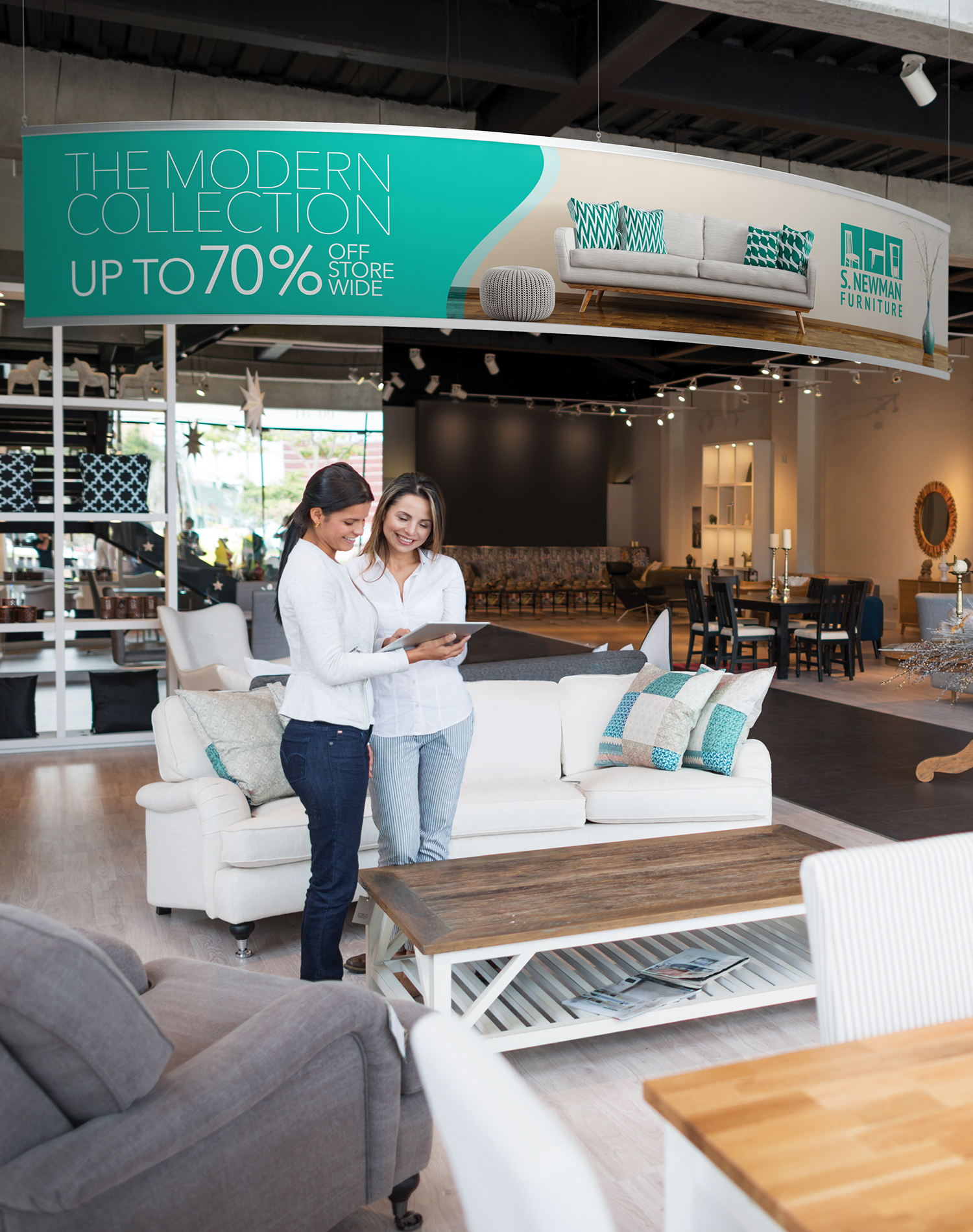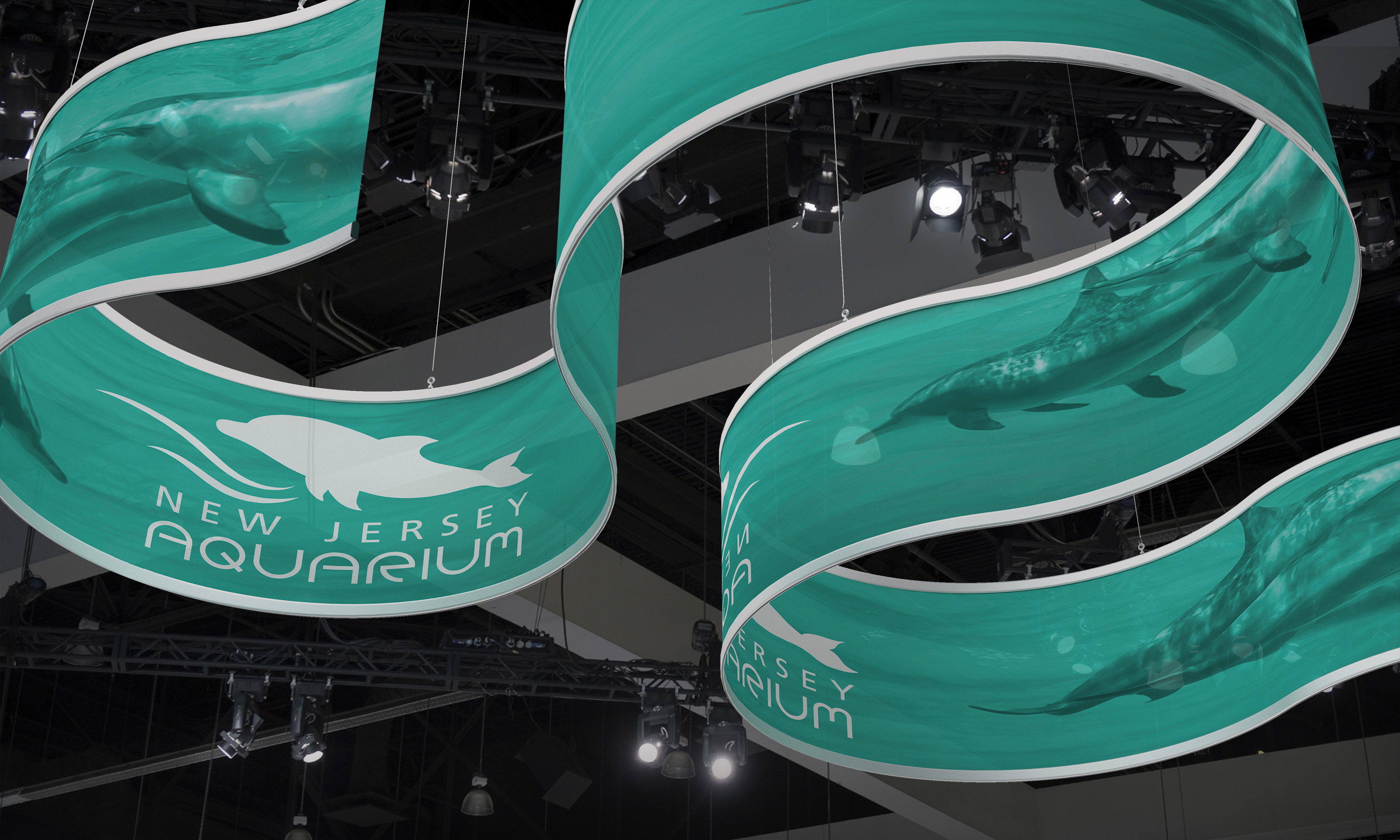 Halo Rails ™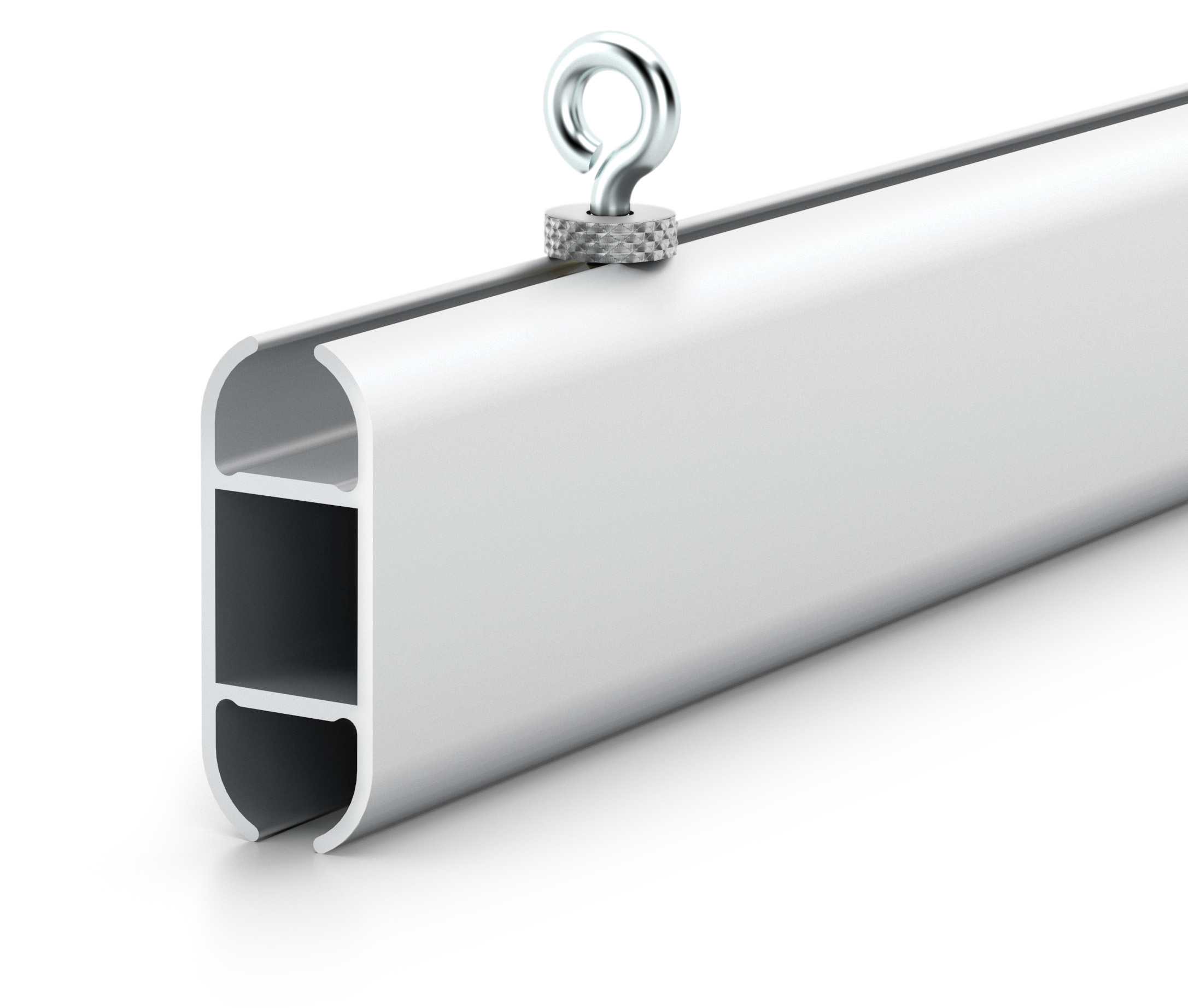 Halo Rails ™ are an innovative and affordable hanging hardware unit that makes it easy for you to maximize your vertical marketing space. Halo Rails™ are available standard from 6' in diameter up to 12' in diameter giving your brand a large canvas upon which to paint your message and grab your customer's attention.
Halo Rails ™ are made from high-quality aluminum with a satin finish. Halo Rails™ are curved to form circles. They include both a top rail and a bottom rail, with the height dictated by your graphic.
One of the benefits of the Halo Rails™ is that you can order them for fabric or styrene graphics. When ordering for fabric graphics, Testrite provides a dowel for use inside the pole pockets and of your graphic. When ordering for styrene graphics, Testrite provides a U shaped plastic extrusion for you to staple to the top and bottom of your graphic.
The Halo Rails™ round hanging banner system is lightweight, easy to assemble and no vertical struts are needed. During the manufacturing process, we attach matching eyebolts to make hanging easier. You can also reposition the eyebolts as needed. These units can be installed hanging from each of the eye bolts individually, or purchase a hanging harness accessory to hang the entire structure from one point.
Looking for something custom? We offer PMS color matching, custom shapes, custom sizes, and more!
Mini Halo Rails™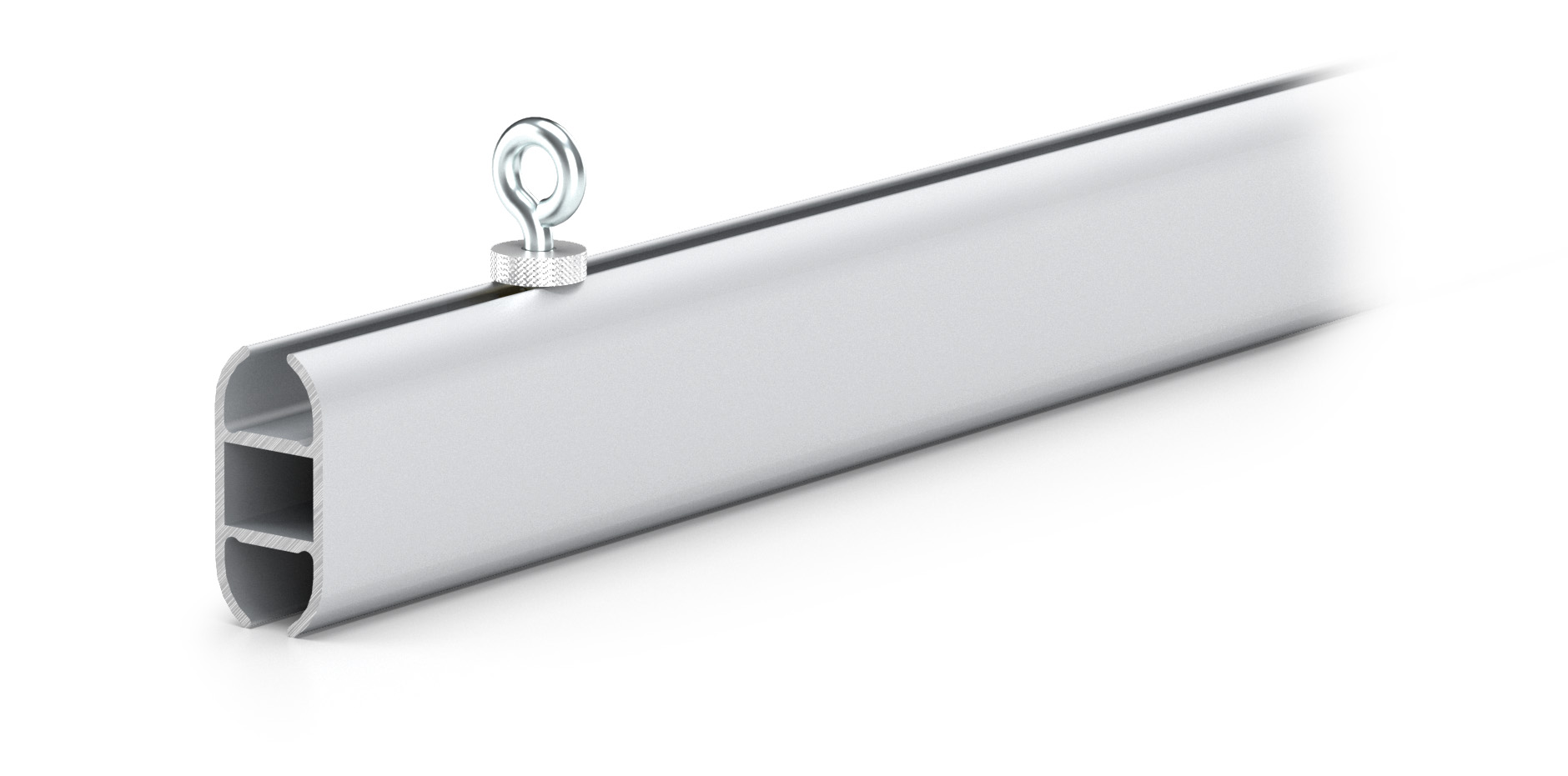 In May 2022, Testrite Visual released a new, mini version of the popular Halo Rails™, aptly named the Mini Halo Rails™. Like its predecessor, the Mini Halo Rails™ have many of the same benefits but with a new smaller look!
The biggest change with the Mini Halo Rails™ is that it has a much smaller profile than the original Halo Rails™. There were two primary reasons why Testrite Visual developed this product. The first was in the interest of maximizing the raw materials which are getting more precious, to help save our customers money. If we can provide a similar product with the same capabilities at a lower cost, while maximizing raw materials, that is a win for everyone! The second reason is we know our customers want the focus to be on the graphic message, not the hardware. A slimmer hanging rail means less hardware to see and more attention to your message.
Graphics integration is at the heart of everything we do at Testrite, and the Mini Halo Rails™ are no exception. Customers still have the option to choose styrene or fabric graphics for units from 6' in diameter up to 12' in diameter, but with the added benefit of a smaller profile.
The Mini Halo Rails™ ships unassembled for low-cost shipping and adjustable bolt assembly attachments are included.
LIT Halos™
Testrite Visual is always looking for ways to make our hardware even better with continuous innovations in shapes, sizes, colors, and graphics integration. Now, we are excited to offer LIT Halos™. These backlit circular stretch fabric graphic structures POP! These lit tension fabric structures can be show stoppers. These bring together our durable hardware, beautiful dye sublimation printed graphics AND LED lighting, all in one unit.
Testrite's LIT Halos™ features high-efficiency LED Torpedo Lights. The torpedo design extends lighting in all directions, providing an incredible visual effect for your graphics! Each individual light offers 5000 lumens! The lighting units are ETL-listed lighting units and feature a daisy chain design so only one power cord is needed for up to 6 lights. The number of lights per unit will depend on the size of the unit.
Lit Halos™ are custom and available for quoting by our sales team. Lit Halos™ features a drum fabric cover design. Keep in mind that with a drum fit graphic, you'll want to coordinate with your safety teams to ensure there are no sprinkler coverage concerns that need to be addressed.
Keep in mind that many of our products are available with lighting accessories so just ask if you need something in addition to our LIT Halo Rails ™.
Related Solutions
Similar to the Halos™, our Circle Moons™ are a single-layer circular aluminum tube structure for stretch fabric graphics. These are available for mounting parallel to the ceiling. They can also be a popular choice for projecting onto round screens by ordering the Circle Moons™ with eye bolts to allow for hanging vertically / perpendicular to the ceiling, and wrapping the Circle Moons™ in white stretch fabric.
Ordering & Shipping
Testrite Visual has a great e-commerce-enabled website where you can easily browse, shop and order all your Halo Straight Rails™, Halo Rails™, Mini Halo Rails™, or Circle Moons™ right online. But, if you need something custom, have questions, or just want to talk with one of our product specialists, we have a dedicated team of experts ready to help you. Reach out today to discuss your project.
Testrite offers national and international shipping with logistics support from start to finish. We also optimize packaging to reduce shipping costs. We can drop ship for print partners and/or work as part of a team to coordinate nationwide rollouts for big brands.
About
Testrite Visual
is Testrite Visual is an elite manufacturer of visual display solutions for local and national retail store brands. Their team of design, visual merchandising experts, and engineers strive daily to look for new ways to make their retail visual display solutions even better. As a fourth-generation, 102-year-old family-owned and operated business and American manufacturer, we focus on providing hardware and solutions to integrate graphics into the retail environment. To learn more about Testrite's
contact
Testrite today.
Two New Hanging Hardware Signage Structure Solutions from Testrite Visual
Hackensack, New Jersey
- Testrite Visual Products is pleased to announce two new ceiling hung visual displays.
Testrite is an elite manufacturer of visual display solutions for local and national retail brands and stores. Their team of designers, visual merchandisers, and engineers strive daily to look for new ways to make their retail visual display solutions even better. Over the last several months they have been focused on optimizing the already popular Halo Rails™. Now, Halo Rails™ are available in a new smaller size - introducing Mini Halo Rails™!
With Mini Halo Rails™, retailers have an even slimmer profile option to hang circular or long straight styrene and pole pocket fabric graphics from their ceilings. The narrow profile helps keep the focus on the graphics, not the hardware. Mini Halo Rails™ are made with the same popular adjustable bolt assembly as our full size system, and utilize the same graphic attachment methods. Mini Halo Rails™ also uses less material and is lighter weight.
Testrite is also excited to announce LIT Halos™, offering the opportunity to amplify these attractive stretch fabric structures with lighting. Customers can add High-Efficiency LED Torpedo lighting to Halos™ to really grab the attention of in-store consumers or for those at trade shows.
"At Testrite Visual, we believe that the best hardware does its job, holds up over time, and fades behind the graphic putting your message first," says President Jeffrey Rubin. "Testrite remains committed to retail visual innovation and meeting the ever-changing demands of leading retailers and brands who want to stand out in a competitive market and believe in the importance of using exceptional hardware."
Testrite Visual works with brands and retailers of all sizes. Testrite partners with many to be their in house source for prototypes and in store environmental visuals. With no or low minimums, shipping and logistics support for nationwide and global rollouts, and US Manufacturing, Testrite has a differentiated offering in the marketplace.
For more information about Halos™, Halo Rails™ and other hanging graphics hardware, visit
www.testrite.com
.
ABOUT
Testrite Visual
is a fourth-generation family-owned and operated business and American manufacturer focused on providing hardware and solutions to integrate graphics into the retail environment.