About Us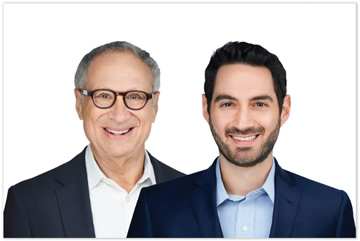 Quality
Innovative
Value Driven
American Made
since 1919.
Our customers increasingly recognize the importance of integrating graphics into
their retail environments. Graphics grab attention, set the tone, and convey critical
messages. With hanging, standing and wall mounted solutions, our dedicated staff
of inside sales people and designers are ready to work closely with you to ensure
your project is a success.
We pride ourselves on listening carefully to our customers and working closely
together. Challenge us. We have 100 years of experience, know how, and
existing tooling. And though functionality, durability and clean design are
guiding company principals, no criteria is more important than providing value.
We engineer value into everything we manufacturer.
Testrite is very proud to be an American manufacturer with an extraordinary reputation
for quality, value and reliability. Because we manufacture in the U.S., our supply chain is
shorter, "greener", and we can offer customizable solutions.
We look forward to working with you soon.
Sincerely,
Jeffrey Rubin, President
Larry Rubin, CEO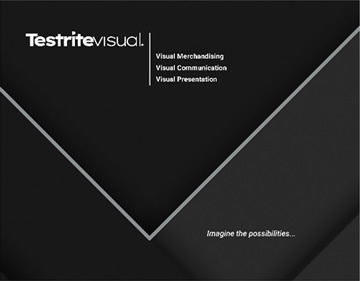 "Imagine the Possibilities"
Visual Merchandising | Visual Communication | Visual Presentation
Testrite Principles
Made in the USA
For over 100 years Testrite has earned an extraordinary reputation for quality and reliability. Because we manufacture in the U.S.A., our supply chain is shorter, "greener", and we are able to routinely provide customizable solutions quickly and cost efficiently. Testrite is vertically integrated, experienced, and capable of working with urgency as needed. Unlike our importer competitors, inputs are from reputable US metal mills with good environmental controls and don't require inbound cargo ships with their carbon footprints. Our aluminum, steel , and corrugated have recycled content. Cartons are made in house and all scrap is recycled responsibly.We believe in reducing , reusing and recycling. Ethical governance with an emphasis on quality and promises met. A diverse experienced American workforce that enjoysfull benefits. Testrite Visual - an American manufacturer especially proud of our world class quality!!
Customer Base
Retailers and Brands, their Visual Merchandise and Store Planning departments, associated Digital Printers, Marketing, Logistics and Installation companies. Large format Digital Printers who realize that the more competitive display options they can offer to their client base, especially customizable ones, the more printing they will sell. The Trade show Exposition Industry, the Event Industry, Promotional companies, Ad Specialty companies, Sign Distributors and Retailers, P.O.P. companies, the Store Fixture Industry.eCommerce and other resellers across many industries and businesses that are able to resell our products and earn good margins doing so. O.E.M. companies that buy assemblies and complete products. Customers rely on our fabrication, and quality. Our ability to customize and quickly get products to market cost effectively is often key.
Value Driven
Functionality, durability and clean design are guiding principles, yet no criteria is more important than providing value. Value is engineered into every product. Value is achieved because we have over a hundred years of experience, a large inventory of existing tooling, and are extremely vertically integrated. Virtually all our products are made in house. We are especially proud of our American workforce and feel we can out work, out design and out produce our foreign competitors to deliver value across all our lines.