Company History

We Are Proud of Our Rich History
Originally an importer of scientific instruments, Testrite redefined itself during WWII as a manufacturer of products needed for the war effort. Those goods included optical instruments- gauges, thermometers, and glass lenses. After the War, Testrite emerged as one of the first American manufacturers of photographic enlargers and darkroom equipment. Later line extensions included camera tripods and photographic lighting accessories.
In the 1960s, company founder Herman Neuwirth, parlayed his love for oil painting into a growth opportunity. Herman invented a line of aluminum artist easels that featured strength and portability advantages that wooden artist easels did not have. For generations, artists relied on our aluminum easels. light boxes and opaque projectors.
In the 1970s Herman's son-in-law, Harold Rubin became the Company's CEO. Relying on its expertise in the manufacture of camera tripods, Testrite developed telescopic aluminum flipchart easels. Flipchart aluminum easels became a huge hit in the growing office products and direct sales (think Amway) markets. With Testrite selling upwards of 10,000 units per week for many years, the Company still took time to develop other educational and visual presentation products which were to become very important in succeeding years.
As markets and industries changed, and distribution channels disappeared, current CEO Larry Rubin, Harold's son, who had grown up in the business, recognized a growing need for telescopic aluminum tube assemblies made to order. Testrite manufactures telescopic assemblies made to close tolerances that are used in many diverse products and industries.
The Company learned that there was great demand for its core competencies, telescopic tubes in satin aluminum finishes, for the visual merchandise display industries. To take advantage of these opportunities, Testrite developed a full range of visual display products from integrated exhibit systems, to banner stands, pop-ups, sign frames, and hanging sign and poster holders.
Today, CEO Larry Rubin is joined by a fourth generation of family leadership, Larry's son Jeffrey Rubin, as President. But what remains constant after more than nine decades of customer committment, product evolution and family dedication, is the Company's insistence on quality and value as customers' marketing opportunities are realized.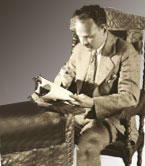 Testrite's founder,
Herman Neuwirth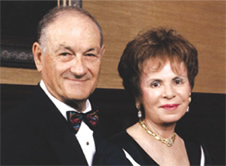 Harold and Enid Rubin
(Herman's Daughter)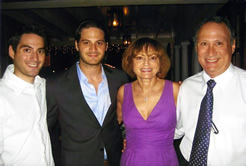 Jeffrey, Russell,
Shirley and Larry Rubin