7 Designs Tips for Custom Aisle Markers (PLUS Trends Driving Retail Store Design In 2020)


Grocery stores. Home Goods. Home Improvement. Have you walked into one of these kinds of stores lately on a mission to pick up your bag of dog food, baby diapers or home cleaning supplies? What was it that made your shopping experience easy? If you are in luck the store had well designed and well-placed aisle markers, wayfinding signage, end cap aisle markers, and other signage to point you in the right direction.
If you are a visual merchandiser you know how hard it is to get shoppers to walk through the door, and you're probably focused on making sure customers find what they need quickly while catching their attention for other categories they value.
"83 percent of consumers say convenience while shopping is more important to them than it was five years ago. The report further states that 97 percent of respondents have backed out of a purchase because of some inconvenience. Ninety-three percent are more likely to shop at a certain retailer based on convenience."
Retailwire.com
Your role is to capitalize on this opportunity to design a store that is aesthetically appealing and easy to navigate to help clients find the solutions they are looking for quickly. How? With great signage.
They may seem small but aisle markers throw a big punch. We can help create a system that is attractive, impactful, and easy to install and move as departments and merchandise categories evolve.
Let's take a look at the most important design elements for aisle markers:
#1 - What will the aisle marker be mounted to?
One of the first questions to address through the design process is where and how will the aisle markers be mounted? Aisle markers can be mounted to walls or columns. You can attach aisle markers to the front or top of Lozier or Madix standards. They can be mounted to a refrigerator case or header. They can sit with a U over the center aisle or hang off just about any surface. You may even have free standing aisle markers.
In many cases, you might want more than one of these varieties in your store design, but they need to have a consistent design language. The best designs can be used in multiple locations around the store, and consistency saves time and money.
You also want to understand how the marker will be mounted. Can it be screwed in or does it require a pressure fit? Would a custom-designed bracket that drops into the top of your Lozier or Madix upright be ideal? Testrite has decades of experience designing, engineering and manufacturing custom mounting brackets. We will in hours or days design, engineer, and prototype a custom mounting solution aisle markers tailored to your needs. Customization helps maximize the investment in signage while giving your stores a unique look.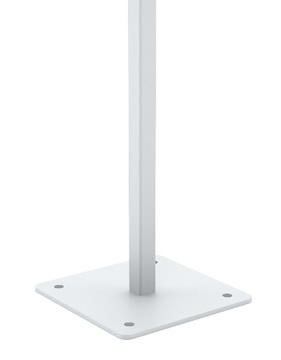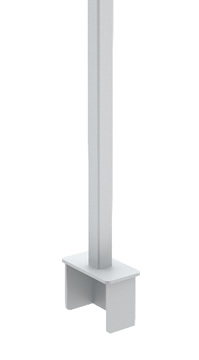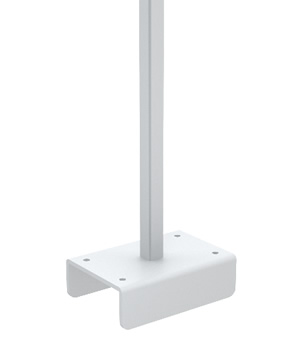 #2 - What style and shape aisle marker do you want to use?
The style and shape of your aisle marker serves an important function and should also match the overall design and theme of the store. There are many different styles and shapes that you can choose from for your aisle markers. Variety is the spice of life as they say. You may use a combination of styles in your store design as long as they're consistent.
Straight aisle markers
Curved aisle signs
Round tubing aisle markers
Square tubing aisle signs
Scroll style signs
Single-arm aisle marker or double arm aisle marker / single-sided vs. double-sided
When designing your aisle marker you can choose from a set of standard styles or you may want to order custom sizes. Testrite can design, quote, render, and prototype custom aisle markers in hours or days, with fast production that follows. Speed and custom are our specialties.
#3 What size aisle marker do you need?
Once you know what shape you want your aisle signs to be you can determine the right size. Whether you'll be using these in the middle of your aisle or as endcap signage may determine the sizing needed. There are three primary measurements you can specify - the Upright height, the Arm length, and Base size.
The Upright length will determine how high up the arm can go. The Arm length determines how far out the graphic reaches. The Base is usually made as small as possible without sacrificing strength.
Need more flexibility? Read on to #4 as telescopic arms add flexibility.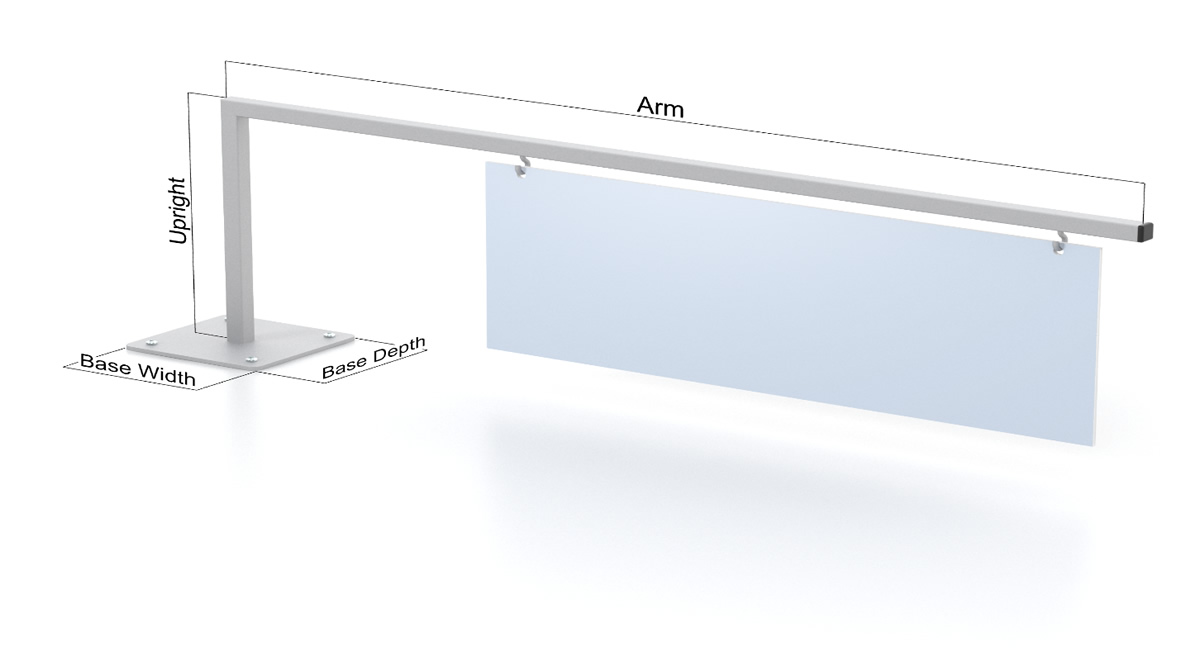 #4 Need more flexibility? Go telescopic!
When a fixed size just won't do, telescopic aisle markers can be just what you need. They can extend from one size to another, either for the height, the arm length, or both.
Adjustable aisle markers can be designed in two ways - infinitely adjustable, allowing for any height within a given range, or with pre-set height options.
Adjustable aisle markers are more versatile for future decor changes
Ability to create visual interest with different heights
Option to accommodate multiple graphics sizes
Flexibility for stores with higher or lower ceilings
Maintain the overall appearance of the brand and, ultimately, create a more consistent shopping experience
Infinitely adjustable means you can slide the arm or upright out to any desired dimension within a range. Set height-adjustable aisle markers are manufactured with a unique knob or spring that would only engage at certain heights. The set height is the more popular option as it makes installation and set up of aisle markers more consistent. It is easier to know all aisle markers are at the 3rd hole rather than needing to adjust and measure each.

#5 How many sides will the aisle marker need to have?
Aisle signs and aisle markers are anything but standard as determined by the number of sides you might request for your design. Perimeter aisle signs and end cap aisle markers are typically one-sided. Aisle markers and gondola aisle signs for the interior aisles are typically double-sided so they can be seen from either aisle. Need four-sided? Just ask.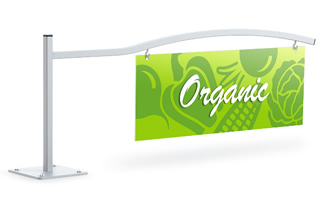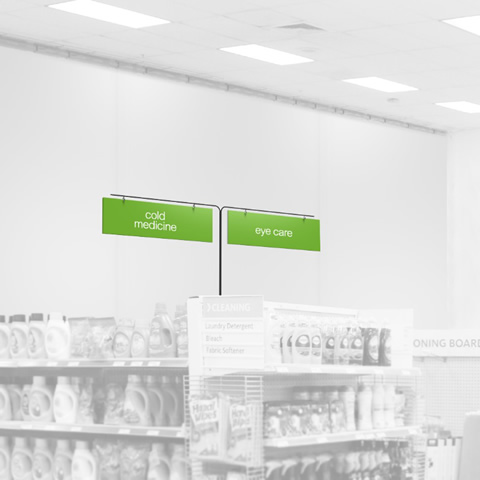 #6 Determine Graphic Hole Spacing
Like aisle markers themselves, it is the small details that make a big difference and this time we are talking about graphic hole spacing.
Graphics are usually mounted to the stands with J hooks in the aisle marker, or with S hooks that sit between the aisle marker's J hooks and the graphic's holes. Measuring is done center-to-center. If you already have graphics being printed for a similar application, simply let us know your existing center-to-center and we're happy to accommodate custom orders. If you're working on a new installation, we can recommend a center-to-center.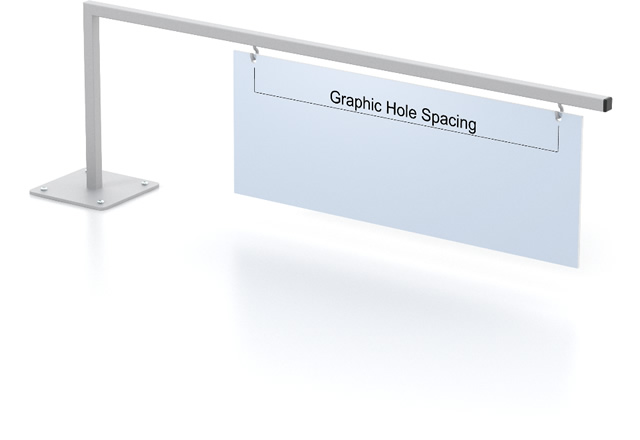 #7 Pick Your Color
Last, but certainly not least, your aisle marker design will need to take into account color. Testrite's standard aisle markers come in two standard colors - black and silver- but clients should never feel limited to just two colors. We can create aisle markers, gondola aisle signs, end cap aisle signs, hardware and graphics in custom colors with our custom powder coating which gives the signage a very tailored look.

Benefits of Testrite Visual
At Testrite Visual, we have been manufacturing graphics for grocery, home goods stores, retail and apparel stores, and the like for 100 years. We are nearly 100% vertically integrated until your order leaves our facility in Hackensack, NJ. We are not importers. We are proud to be manufacturing in American at competitive pricing. No one can beat our speed - from request through quoting, design, prototyping, and production.
We work with store designers and visual merchandisers every day. Our national team of Testrite Sales Professionals is here to help you find and design the right solution for your application with quick production lead times whether its standard or custom.
For large scale projects, one of our experienced team members would be happy to walk a store to help design the ideal aisle markers for your main and secondary aisles.
At Testrite, it's done "rite" every time. Reach out and we would be happy to help you today!
posted at: 2020-02-03 09:20:00, last updated: 2020-02-07 08:00:16