Hanging Graphic Hardware
Our Hanging Grippers and Trapeze Bars are distinguished by their ease of use, terrific gripping power, and the many available hanging options.

Models are available made of aluminum alloy or plastic and they are all strong yet lightweight.

The aluminum satin matte finishes are complementary to almost any environment.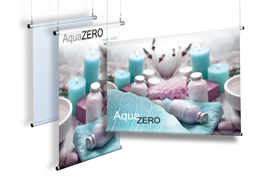 Mobile Demo Tables
Graphic Clips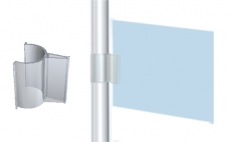 Snap on graphic clips. Great for styrene and other semi rigid media. 2/set. Use for side signage & headers.

Model
Mounting
HT·1
Fits 1" diameter pole.
Plastic Side Shelf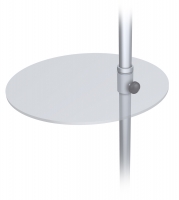 Plastic shelf is adjustable up & down and swivels.

Model
Style
CRDPS
Moveable 11-3/4" diameter.

Aluminum Shock Cord Assembly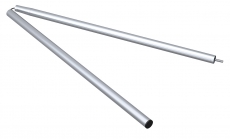 45" open. For 2 sided use - order 2 units.
Model
Style
CRDMUP
Two section 1" diameter.
Catalog & Pamphlet Holders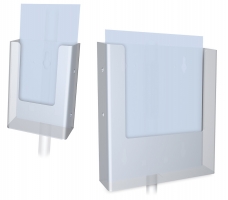 PB1C and PB2C
SNAP ON BROCHURE HOLDERS
Wire and Acrylic models available
Sizes for catalogs and pamphlets
Pamphlet size 4" wide x 1-1/2" deep
Catalog size 9" wide x 1-1/2" deep
Pamphlet sizes PB1, PB1C, PB3, PB3C, PB5, PB5C
Catalog sizes PB2, PB2C, PB4, PB4C, PB6, PB6C

Model
Style
Graphic Size
Size
Weight
Mounting
PB1
WIRE
PAMPHLET
1 lb.
1" DIAMETER
PB2
WIRE
CATALOG
1 lb.
1" DIAMETER
PB3
WIRE
PAMPHLET
1 lb.
1 1/2" DIAMETER
PB3C
ACRYLIC
PAMPHLET
1 LB.
1 1/2" DIAMETER
PB4
WIRE
CATALOG
1 lb.
1 1/2" DIAMETER
PB4C
ACRYLIC
CATALOG
1 LB.
1 1/2" DIAMETER
PB5
WIRE
PAMPHLET
1 lb.
3/4" DIAMETER
PB5C
ACRYLIC
PAMPHLET
1 lb.
3/4" DIAMETER
PB6
WIRE
CATALOG
1 lb.
3/4" DIAMETER
PB6C
ACRYLIC
CATALOG
1 lb.
3/4" DIAMETER
PB7
WIRE
1 lb.
PB7C
ACRYLIC
1 lb.
PB8
WIRE
1 lb.
PB8C
ACRYLIC
1 lb.
PB1C
BROCHURE
SNAP-ON
PB2C
CATALOG
SNAP-ON