CREO
Creo is an innovative Visual Merchandising Exhibit System featuring tool-free assembly. Creo's clean design, easy graphics integration and modular construction can be customized and assembled in an infinite number of ways.

3D Creo Component libraries are available for download in several professional CAD formats at CREO CAD Library and the popular SketchUp format here.

With CREO, you can design systems completely tailored to your client's requirements.

Request More Information
Creo Crowd Control Systems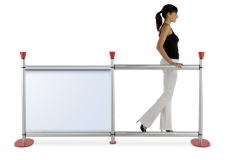 Concept 62345
Great styling, Graphic integration, Tool-Free assembly.
Perfect for in line queue applications, CREO offers great exhibit & merchandising opportunities.
Extremely easy to set up.
Italian designed.
Infinite number of variations available
Made in the U.S.A.
Quality and Value, Built to last!
Graphics, signs, posts video, panels, platforms and shelves can be added to generate impulse sales and brand awareness.