Easels - Art - Presentation
Our Easels are well-made and built to last. All metal, our Elegant and Convention models are perfect for hotel lobbies, theatres, tradeshow floors and other environments where durability and aesthetics count. Our Flipchart Presentation models offer terrific portability and are great for general office use. Our Artist Easels enjoy a well earned reputation for reliability, portability and value.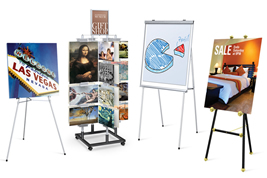 Table Top Exhibits
Table Top Exhibits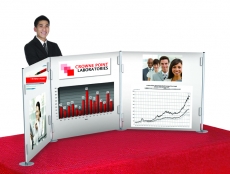 Table Top Exhibits
GREAT FOR TRADESHOWS OR ANY PORTABLE PRESENTATIONS
SIMPLE • PORTABLE • ECONOMICAL
Features:
1" diameter uprights
6-3/4" round steel bases
Satin anodized finish
Lightweight, strong & portable
Use rigid or semi-rigid graphics - quick change outs!
Graphics Determing Panel Widths.
Clips accepts semi rigid graphics from .020" to .187" thick.
Semi rigid graphics can be rolled from easy shipping.
Styrene is an excellent media choice.
Rolls up for storage & shipping. Easily cleaned.

Model
Upright
Mounting
PVT1
4 - 24" High
Holds 3 panels, 12 Clips.
PVT2
5 - 24" High
Holds 4 panels, 16 Clips.
PVT3
4 - 36" High
Holds 3 panels, 12 Clips.
PVT4
5 - 36" High
Holds 4 panels, 16 Clips.
PVCLP
Clip snaps onto upright to hold graphics from .020" to .187" thick. Pack of 12 extra clips.
Instruction Sheets
Table Top Tension Fabric Displays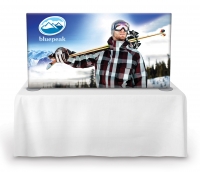 Straight model
TOOL-FREE SET UP!
DESIGNED FOR PILLOWCASE GRAPHICS
STRAIGHT OR CURVED DESIGNS

Straight models 69" wide, includes 2 round 6 3/4" bases
Affordable, portable
Quick, tool-free assembly
Curved Models: 69" wide, 17" deep, 80 5/8" lineal length
Note, units are shown on 6' tables. Also well suited for 8' tables.

Model
Style
Size
TBS3
Straight
69" wide x 36" high
TBS4
Straight
69" wide x 48" high
TBC693
Curved
69" wide x 36" high
TBC694
Curved
69" wide x 48" high
Instruction Sheets
Telescopic Clamp-On Table Header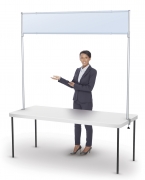 COH1
GOOD FOR HEMMED BANNERS
2 Telescopic clear anodized uprights open to 88"
2 Crossbars telescope from 70" to 96"
Good for 6' or 8' wide tables
Graphic width is also adjustable. Bottom crossbar snaps anywhere along upright
2 Table clamps open to 2 1/2"
(Graphic not included)

Model
Size
Colors
COH1
See specifications
Silver
Instruction Sheets
Travel Bags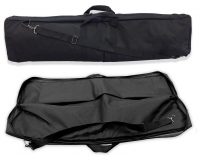 EBG-6 CLOSED AND OPENED
TRAVEL BAGS IN MANY SIZES AND STYLES
Durable canvas travel bags and cases are available in many sizes and styles.
[Imported]


=
Login or Register to View Pricing & Shop Online

= QuickShip item
Model
Style
Size
EBG·6
40-1/2" L x 10" H x 3-1/2" D
EBG·X
EBG·8
RY-5, RY-6
54"w x 3.75"h x 8"d
EBG·9
RY-7, RY-8
63"w x 4"h x 9"d
EBG·C
BL-9
22"w x 3"h x 4"d
EBG·H
JN
39"w x 9"d
EBG·LR
29"w x 12"h x 9.5"d
EBG·M
79"w x 22"h x 2.5"d
LNB·1
PFK
33"w x 18"h x 13"d
SNB·1
NYLON BAG
33"W X 12"H X 13"D
QuickShip
items are shipped same day for orders received by 2:30EST.
Quantity restrictions apply.